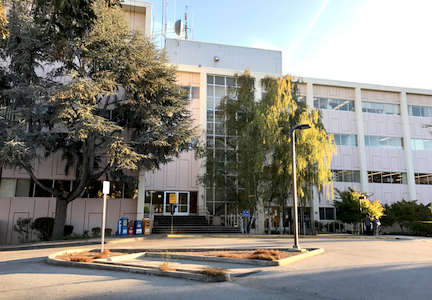 By the Daily Post staff
The Palo Alto Courthouse, which some feared would permanently close after a temporary shutdown due to the pandemic, will reopen on May 2, a Santa Clara County Superior Court spokesman announced today (Jan. 10).
"Reopening courthouses will help us do the court's business, resolve backlogs, increase access, and minimize crowding for our courthouses and clerk's offices," Presiding Judge Theodore Zayner said in a statement.
The courthouse at 270 Grant Ave. has been closed since the beginning of the pandemic. For nearly two years, people accused of crimes have had to make the trip to the courthouse in San Jose to appear. The drive takes about 30 minutes, and parking costs $5 per hour, up to $15 per day.
County Supervisor Joe Simitian grilled court officials at a meeting in October because he said they were alienating the public. The court is remote, unresponsive and inaccessible, especially for people in the northern part of the county, he said.
Beth McGowen, the assistant presiding judge, said Simitian's assessment was fair, and she pointed to the court's reduced budget and layoffs as to why things aren't running smoothly.
The state cut the court's budget by 10% last year, and 53 employees were laid off, McGowen said. The Palo Alto Courthouse closed first to make operations easier, and then stayed close because of staffing shortages, McGowen said.