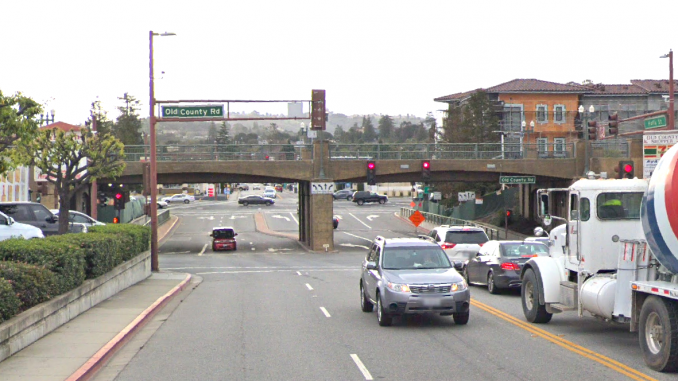 By the Daily Post staff
Gov. Gavin Newsom's new $286 billion budget, released today (Jan. 10), includes $500 million for bridges to separate the streets from the tracks at Caltrain interchanges.
While $500 million will only pay for one or two grade separations, the money represents a change in the state's philosophy. Previously, the state wasn't going to contribute to grade separations, leaving the funding to the federal government and cities such as Palo Alto.
Palo Alto officials are thinking about putting a tax on the November ballot that would help fund grade separations. A 2017 report by a consultant said the city would need anywhere from $750 million to $4 billion to add grade separations.
Measure B, a half-cent sales tax for transportation projects approved by Santa Clara County voters in November 2016, earmarks about $700 million for as many as eight grade separation projects in Palo Alto, Mountain View and Sunnyvale. Palo Alto will get half of the $700 million.
Menlo Park is eyeing grade separations at Ravenswood, Oak Grove and Glenwood avenues. The cost for the single bridge was estimated at up to $190 million; grade separations at the three crossings could cost as much as $380 million.
Local officials want the grade separations because they plan to have Caltrains running every 15 minutes. If the frequency of Caltrain increases, the crossing gates will be down more often, backing up traffic at railroad interchanges. A grade separation will allow traffic to go under or over the tracks when a train passes by, reducing street congestion.
The governor's proposed budget projects a $45.7 billion surplus.
State Sen. Josh Becker, D-Menlo Park, said he is particularly excited about $22.5 billion in climate change-related spending, including $6.1 billion proposed over a 5-year period to accelerate the transition to zero-emissions vehicles, and $2 billion to advance building and industry decarbonization, wind energy, long-duration energy storage and more. The governor's economic opportunity investments include $500 million for job training for workers in the green economy.
The budget also calls for an increase per pupil spending in public schools from $18,000 to $20,855.
In addition to the $500 million for grade separations, the transportation portion of the budget allocates $750 million for bike and pedestrian projects.
The budget is far from final. Legislators will weigh in. Then the governor will submit a revised budget on May 14, called the "May revise." After that, Legislature has until June 15 to pass the budget. The budget covers the fiscal year beginning July 1.