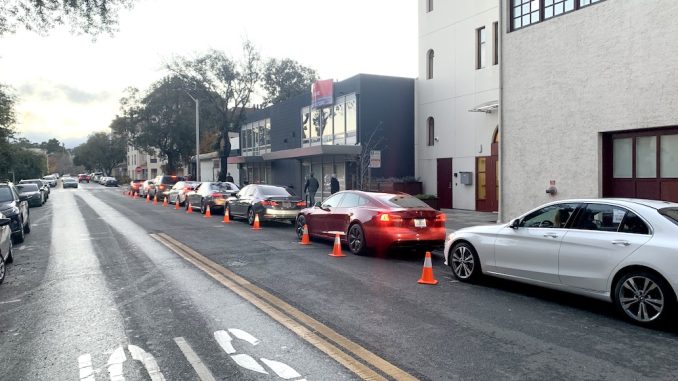 BY BRADEN CARTWRIGHT
Daily Post Staff Writer
A line of cars stretched around the block at the Covid testing center in downtown Palo Alto, one of the only places in Santa Clara County where people could make a same-day appointment.
One woman got out of her car, flustered that the line wasn't moving. She said she had been sitting in the same spot for 15 minutes and didn't understand why, because a test takes just a minute.
At the front of the line, a small crew collected swabs from a stream of hundreds of cars all day, starting at 9 a.m. and ending at 5 p.m. People interviewed on Thursday (Dec. 23) said they were there for the same reason: They thought they were exposed to Covid in the last few days, and they were planning to see their family for Christmas.
Roxanne Corona (yes, that's her real name) will be isolating instead of celebrating Christmas with her family this year. She works at a preschool in Palo Alto, and she held a child who is related to a person who tested positive.
Corona's father-in-law is on dialysis, so she said she'd be staying home tomorrow to protect him even if the test is negative, because she is worried symptoms might come later.
"It's desperation," she said. "I'm very upset about it."
Long line
Victoria Baars said she has been tested for Covid more than a dozen times because her husband has cancer. She said she never had to wait in a line like yesterday's, which took her more than 30 minutes to get through.
Baars is a golf instructor from Mountain View, and on Tuesday she worked a golf camp. One of the coaches tested positive afterwards, so her boss scheduled tests for her and six coworkers, she said.
"I wish (Covid) was over with," she said. "It's getting really old. I just want everybody to be safe and healthy."
Some people, such as Steven Chan of Santa Clara, had no direct exposure to Covid but got tested just in case. Chan just came back from a vacation in Sonoma, and he said he is worried he caught Covid at a museum he visited.
People had the option of getting a rapid or a regular test. A rapid test costs $123, the results are available within hours, and insurance may reimburse people. A regular test is free, but the results take a day or two to come back.
CVS out of home tests
At the CVS a couple blocks away on University Avenue, people stopped in to ask if the store had at-home tests for sale. Cashiers said they didn't receive their latest shipment, and the store has been out since Sunday. They didn't know another place to send people to find a test.
Santa Clara County has yet to see a large surge from the Omicron variant, which is more contagious than previous variants but may cause less severe illness, according to the CDC.
The county has experienced an uptick in cases though, with an average of 793 positive cases per day over the last week, the highest since September but well below the peak of the pandemic last winter, when over 1,400 people were testing positive per day.
There were seven Covid deaths reported in Santa Clara County last week, and 42 patients with Covid are in intensive care units, according to the county's Covid database.
The testing at the Forest Avenue and Emerson Street site is provided by CovidClinic.org. Contact them at (877) 219-8378 or via email at info@covidclinic.org.