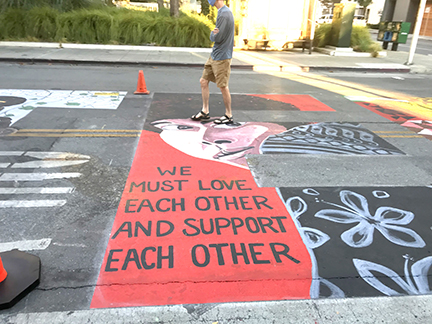 This story first appeared in Wednesday morning's print edition of the Daily Post. If you want to get important local news first, pick up the Post in the mornings at 1,000 Mid-Peninsula locations.
BY BRADEN CARTWRIGHT
Daily Post Staff Writer
The Black Lives Matter mural that was painted on the street outside of Palo Alto City Hall last summer wouldn't offend "any reasonable person," lawyers for the city of Palo Alto are arguing in court.
The city has filed an objection to a lawsuit from six police officers who sued the city in July for helping pay for the 245-foot mural, which depicted Assata Shakur, a Black Power revolutionary convicted of killing a police officer in 1977.
The officers said the mural constituted harassment and discrimination, and the city's failure to remove the mural after their complaints was an act of retaliation.
But the city threw cold water on those claims in an objection filed by Suzanne Solomon on Nov. 23.
Solomon said police officers are not a protected class under fair state employment law. A protected group is a category by which people are qualified for special protection under the law. The law protects employees from harassment or discrimination based on race, disability, sexuality or other characteristics.
"However annoyed the (officers) were by the mural, that annoyance does not rise to the level of an actionable adverse action," Solomon wrote.
The officers claim they suffered "anguish, fright, nervousness, grief, anxiety, worry, shame, mortification, injured feelings, shock, humiliation and indignity" because they were "forced to physically pass and confront" the mural on Hamilton Avenue every time they entered the Police Department.
Suit seeks money
They're looking for the city to pay for their mental and emotional injuries.
The city's objection will be heard in Santa Clara County Superior Court on March 3.
The lawsuit was originally filed by five police officers: Christopher Moore, Eric Figueroa, Michael Foley, Robert Parham and Julie Tannock. A sixth officer, David "Heath" Ferreira, has joined the lawsuit.
In August, Moore left the police force and wrote a letter criticizing the department, including its response to the mural. He said many people in the department regretted not participating in the lawsuit.
"The reasons I was given when I reached out to every member in the union about joining the lawsuit fell into three main categories: cowardice, apathy or fear of department retribution. All three are concerning," he wrote.