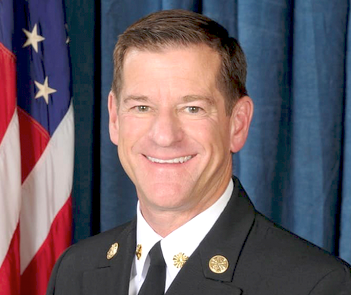 By the Daily Post staff
The Menlo Park Fire Protection District Board of Directors has offered the job of fire chief to Mark Lorenzen, currently head of the Ventura County Fire Department.
Lorenzen, a Santa Barbara resident, has worked for the Ventura County department for 31 years and has been chief for the past decade. He is anticipated to start in Menlo Park in early February.
On Dec. 2, the Ventura County Star newspaper announced Lorenzen was retiring as chief early next year. But the Star added that Lorenzen plans to continue working in the fire protection field, either as a consultant or in local government.
"I am looking forward to something that motivates me to get up in the morning," he told that newspaper. "It is not going to be playing golf or going surfing. I am still looking for something where I can make a difference."
Lorenzen said he counts the 2016 consolidation of dispatch services for fire and medical calls as a high point in his tenure because it allowed the closest fire engine to be sent to an emergency without regard to city boundaries.
Lorenzen's salary hasn't been revealed but Harold Schapelhouman, the previous chief, made $288,791 in regular pay and $384,628 including benefits in 2019, according to the government salary website Transparent California.
Schapelhouman retired June 30 after 40 years with the district. Schapelhouman wanted to stay on through the transition to a new permanent chief, but the board refused his offer.
The five member board had hired a professional recruiter, Teri Black, to look for a replacement for Schapelhouman.
One of the applicants who didn't make the list of finalists, former Vallejo Fire Chief Daryl Arbuthnott, said in a letter to the board that he was "unfairly screened" and suggested racial bias since he is black.
Board member Robert Jones, who is also black, said at a July 20 meeting that he's worried about the fairness and integrity of the search for a new fire chief. Jones said he found the letter from Arbuthnott "pretty damning to the process we've been through so far."
Black, the recruiter, said her firm had a strong record of "diversity placements."
But the board rejected all of the applicants and decided to have the district's HR department handle the second search, which yielded fewer applicants.
One reason why there might have been fewer applicants the second time is the Aug. 6 revelation that board member Rob Silano, who publicly claimed to be a supporter of Schapelhouman, was privately calling the chief "insubordinate" and "disrespectful" for not considering his ideas, according to emails obtained by the Daily Post.
The board found itself in a rush to make a selection since the interim chief, Mike Shaffer, is scheduled to retire Dec. 30.
The district's Board of Directors will formally appoint Lorenzen at its Dec. 21 meeting. It will also appoint an acting fire chief to fill the gap between Shaffer's retirement and the arrival of Lorenzen.
The Menlo Park Fire Protection District covers Menlo Park, East Palo Alto, Atherton and some unincorporated areas of San Mateo County such as North Fair Oaks and West Menlo. The district has seven fire stations, 148 full-time equivalent employees and an annual operating budget of $60 million.