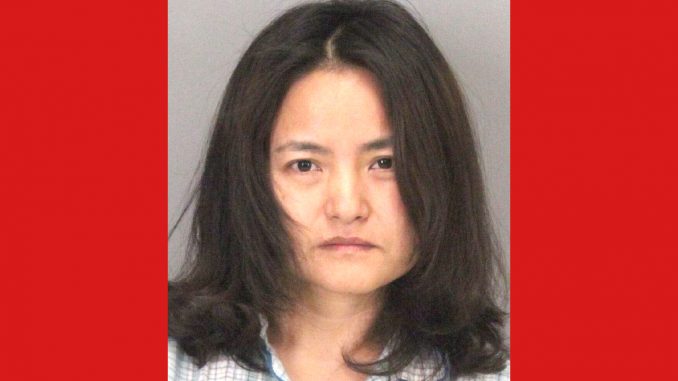 BY BRADEN CARTWRIGHT
Daily Post Staff Writer
A Palo Alto woman, who has been in jail for five years awaiting trial for stabbing her sister-in-law to death, has accepted a plea bargain and been freed from custody.
Jingyan Jin, 46, pleaded guilty on Wednesday to involuntary manslaughter, which has a maximum four-year sentence, and was given credit for time served. Since she's served five years already, she was eligible for immediate release on Wednesday (Sept. 22).
Jin was facing a murder charge in the July 7, 2016 death of Jenny Shi, 65, whose body was found in Shi's home on the 300 block of Creekside Drive in south Palo Alto.
The plea deal comes as jury selection was wrapping up for a potential trial in Santa Clara County Superior Court before Judge Elizabeth Peterson in San Jose.
Prosecutors claimed that Jin thought Shi had hid a large amount of money in anticipation of Jin's divorce from Shi's brother, James. The idea was that Jin felt she was entitled to some of the money Shi had allegedly concealed.
Jin cut her way into Shi's home through the window screen and stabbed her 41 times, police said. Shi was found in a pool of blood in her bed.
Police said that Jin's DNA was found on the window, and she had previously fought with Shi and threatened her husband. She was arrested on Oct. 6, 2016, and has been in jail since then.
"She is innocent, and she pled to get out of jail," said Rebecca Kahan, Jin's public defender.
Evidence couldn't be used at trial
The prosecution was relying on evidence from cellphones owned by Shi and Jin, using information from cell towers to prove the crime. But the evidence couldn't be used because some cell towers in the area weren't looked at, prosecutor Carlos Vega said.
Rather than re-examining the evidence, and potentially dismissing and re-filing a case that was always based on circumstantial evidence, Vega decided to make a deal.
He couldn't say if he was satisfied with the outcome.
"We constantly reassess and have to make decisions based on new revelations," he said.