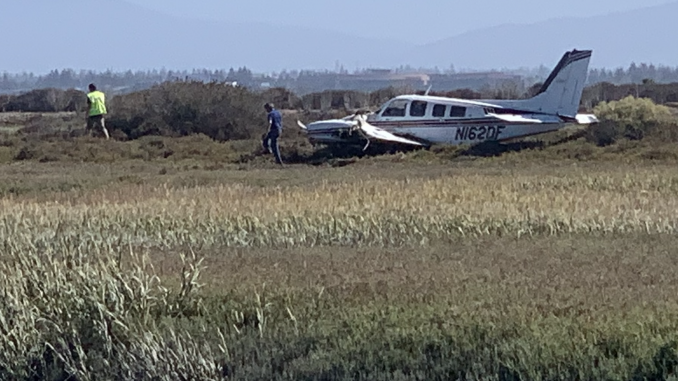 BY BRADEN CARTWRIGHT
Daily Post Staff Writer
A small plane crashed after striking power lines in the marsh outside of the Palo Alto Airport today (Sept. 13).
The pilot was uninjured, but he was taken to a hospital out of precaution, deputy fire chief Kevin McNally said.
The plane, a twin-engine Beechcraft Baron, was headed west toward the airport when it hit and mangled the power lines on the edge of the Baylands Nature Preserve.
The plane landed right side up less than a quarter mile away on the edge of a creek. The end half of the left wing fell off of the plane.
Police, fire, electric and environmental crews responded, McNally said.
Investigators examined the wreckage, looking into the cockpit and taking pictures.
McNally said the pilot left in an ambulance before the fire department interviewed him, and why he crashed into the power lines is not yet known.
The Federal Aviation Authority and National Transportation Safety Board were notified and will oversee the investigation.
Other plane crashes around the Palo Alto Airport have had less fortunate outcomes, according to the National Transportation Safety Board's aviation accident database.
In 1986, six people died after they took off for Mexico on a hazy night, and the pilot became disoriented and went into the Bay.
In 1989, a pilot lost power to his modified plane engine, landing nose first in a pond short of the runway.
In 2010, three Tesla employees died in an explosive plane crash above East Palo Alto that sent plane parts raining down onto a preschool. They took off on a foggy day and toppled a 100-foot electrical tower, knocking out power in Palo Alto for 10 hours.
In 2018, a pilot from Redding was struggling to land, and he crashed into the Palo Alto Duck Pond on a second go-around. He died, and his two passengers were injured.