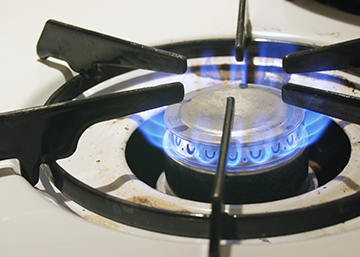 BY EMILY MIBACH
Daily Post Staff Writer
The Menlo Park City Council on Tuesday (Aug. 31) will review a proposal to have residents and building owners replace their gas appliances to all-electric when they need replacement.
To replace a hot water heater could cost an additional $2,775 if a homeowner does not seek out incentives to replace their gas burning heater with an electric one. If they do, it will only cost an additional $555, according to a report from Sustainability Manager Rebecca Lucky. However, the replacement could save residents up to $7 a month on their monthly bill, according to Lucky's report.
The council-appointed Environmental Quality Commission has been tasked with advising the City Council on ways to reduce greenhouse gas emissions in Menlo Park as set in the council's Climate Action Plan. One of the goals in the plan is to "explore policy program options to convert 95% of existing buildings to all-electric by 2030."
The commission is recommending  council pass an ordinance that bans the installation of new gas appliances in the city. The council previously approved all new construction having electric appliances.
The mission to replace gas appliances is because 41% of the city's greenhouse gas emissions come from natural gas use in buildings around town, according to Lucky's report.
Currently, the city requires residents and landowners to get permits for new gas water heaters and furnaces, so when a property owner goes to apply for a new one, they will be told to get an electric appliance. The commission agreed at its Aug. 19 meeting that the council ought to get this ordinance on the books ASAP, and in the mean time, will work on other ways to get residents to switch to electric appliances.
One way to get residents to switch is by educating them that it may be relatively easy to switch the type of appliance, according to a memo from commissioners Josie Gaillard, Tom Kabat and Angela Evans.
The commission also suggests the city provide building owners with free electrification plans.
The commission at its Aug. 19 meeting also discussed that other ordinances may need to be passed in order to reduce gas burning appliances in town.
For example, Kabat suggested a future ordinance the commission can look at is requiring electric appliances be installed when a home or building is sold.
Kabat said that about 400 homes are sold every year in town, so in 10 years, about 30% of homes will be electrified.
Tonight, the council will not pass any ordinance, but instead discuss the ideas brought up by the commission, review whether it's cost effective for residents to make the switch, and tell Lucky and City Attorney Nira Doherty what sort of ordinance to write for the council to vote on, if any.
Residents weigh in
Over the past week or so, at least 30 residents have sent emails to the city council through its public CCIN portal to weigh in on the topic.
Multiple residents including Kristal Powers, Paul Chua, Joseph Lam and Kellie Morris all signed onto a form letter that was sent to the council at least 20 times over the past week, urging the council to accept the commission's recommendations and make sure the city becomes a "true climate leader."
"These actions are critical right now. We have no time to waste! By supporting these policies, you will be demonstrating to the world what a proper response to this climate crisis looks like," part of the letter says.
A smaller number of residents have written to council opposing the idea, such as Sue Kayton, who says the plan is not "practical, economical or ecologically sound."
Kayton argues that replacing gas with electric could cost a homeowner $25,000 to "drop new electric service, jackhammer through their slab, break open walls, rewire the entire house, replace all their circuit breaker panels, redo kitchen cabinetry, and lose close space to house replacement furnaces or water heaters."
The council will discuss the potential ban on Tuesday at 5 p.m.