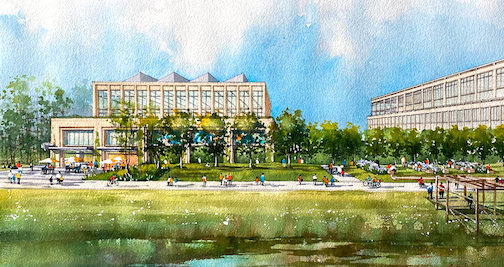 A preliminary application for a 918,000-square-foot office project near Cooley Landing in East Palo Alto will go to City Council tonight (April 6) for a review.
Harvest Properties, an Oakland real estate investment firm headed by Preston O'Connell and Blair Volckmann, has submitted a proposal for what it calls "The Landing," the 17.8-acre site at 1990 Bay Road between Bay Road and Weeks Street.
The developers are proposing four office buildings totaling 918,000 square feet of space for research and development, laboratories and retail. The project would have 3,000 parking spaces and an estimated 3,400 jobs.
The buildings won't consume the entire site. Seven of the 17.8 acres have been set aside for open space including a public plaza and dog park.
Harvest Properties filed a preliminary application for the project in February 2020 and held two community meetings in January and February of 2021. East Palo Alto's Planning Commission then held a study session on the project on Feb. 22.
Tonight (April 6), the City Council will review the plan and provide feedback to the applicant and city staff.
The meeting begins at 6:30 p.m. via Zoom. People can join the meeting at https://zoom.us/j/91361861915 or by phone at 1 (669) 900-6833. The Webinar ID is 913 6186 1915.
A meeting agenda, which includes meeting details and information on the project, is available at http://eastpaloalto.iqm2.com/Citizens/Default.aspx?field_microsite_tid_1=27.
More information about the project is available at www.thelanding-epa.com. — Bay City News