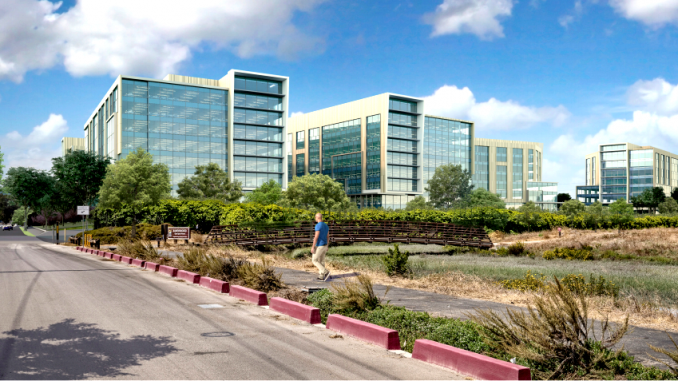 BY EMILY MIBACH
Daily Post Staff Writer
The massive 1.3 million-square-foot office project proposed at 2020 Bay Road near Cooley Landing should add community space, such as a city hall, retail and housing, East Palo Alto's Planning Commission said last night (June 24).
The commission held its second study session on the project, discussing changes and asking owner Bill Uhrig questions about his proposal.
Uhrig slightly altered the project, which would include five eight-story office buildings, from the last time the commission looked at it in March.
This iteration now has 1.3 million square feet, instead of 1.4 million, and 4,538 parking spaces instead of 4,328.
Community space
Uhrig also plans to add "community space," though the amount of square feet has not been determined.
But city Community and Economic Development Director Patrick Heisinger said that it may be a sizable amount, since Uhrig has brought up the idea of a city hall being located at the project.
"He's inquired about why we don't have our own city hall and how much it would cost to build. I don't know if we will go that route here, but I appreciate that he's asking about these things," Heisinger said.
Heisinger also pointed out that the police department's lease on Tara Road is coming up soon.
"I don't know if that would be the ideal place for the police department," Heisinger said. "But it's 1.3 million square feet of office and I want to try to get everything out of this that I can for the city."
Resident Jane Howell commented that a city hall would be "more realistic" for the site, because she does not find the design of the office buildings compatible with Cooley Landing.
Others requested an amphitheater type of amenity be added to the outdoor portion of the project so gatherings can be held along the connection to Cooley Landing.
Hurdle to retail space
Commissioners Michael Mayshack and Javanni Brown both requested that more retail space be added to the project as a way to make room for some of the local businesses that were bumped out during previous redevelopments.
He's currently proposing 3,500 square feet of retail.
Uhrig said that he is looking for guidance from the city as to what the building ought to have. His main caveat, however, is that he does not want to request any zoning changes from the city.
A couple of times during the hearing, commissioners asked him to consider more retail, but Uhrig put the onus on them to figure out how to do that.
Planning Manager Guido Periscone noted that there is no zoning in the area for "general retail," but if the retail benefits a certain group, such as Cooley Landing visitors or people in the office, it may be allowable.
Commissioner Robert Allen Fisk suggested that housing be added to the top floors of the office buildings to reduce the amount of traffic the project will generate.
Size 'overwhelming'
What was not lost on residents and commissioners is how large the project is, with resident Francisca Guzman commenting that the development is "overwhelming."
Fisk noted that this project reminded him of Oracle's Redwood Shores campus, dubbed the "emerald city" because of the green tint the buildings have.
"This is the southern emerald city, depending on the color glass you choose," Fisk said.
The project is slated to go to the City Council for a study session next month, after which the project's environmental report will be released, and the project will appear in front of the commission once again.
Only a fraction of the local news stories covered by the Daily Post appear on this website. To get all the local news, including many stories you can't find online, pick up the Post every morning at 1,000 Mid-Peninsula locations.