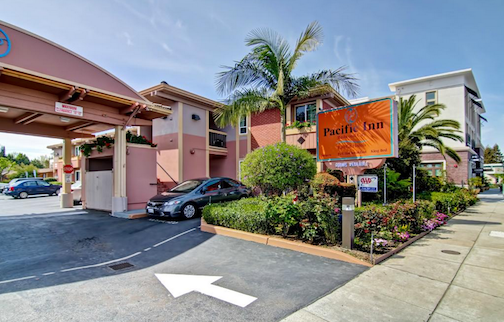 BY EMILY MIBACH
Daily Post Staff Writer
The San Mateo County Board of Supervisors today (April 6) is expected to approve paying Redwood City $1.5 million to make up for lost taxes from when the county bought two hotels to shelter the homeless and elderly.
Redwood City officials told the county that the purchase of the two hotels will cost the city $2.5 million in tax revenue, according to a report from County Manager Mike Callagy.
This proposal to hand over money to Redwood City comes as the county is trying to negotiate a deal with the city to use some of its land near the Maple Street jail to replace its homeless shelter.
In December, the county bought two hotels, TownPlace Suites in Redwood Shores and Pacific Inn at 2610 El Camino Real, for $57 million.
The city has a 12% hotel tax. This means that if the room rate is $100, an extra $12 is tacked on in order to pay the tax.
In the financial year that ended in June 2020, Redwood City got $6 million from the tax. A year earlier, the city received $8.6 million.
When the county bought the two hotels, the city claimed it would lose $2.5 million a year in tax revenue.
However, after researching the city's request, Callagy's team disagrees with the estimate of $2.5 million and is instead offering officials $1.5 million.
Callagy says in his report that given historical vacancy rates in Redwood City, it would be reasonable to expect that people who want to stay in Redwood City would continue to do so, just at a different hotel and keep paying the city's hotel tax.
But because the county and Redwood City "have many shared interests and areas of collaboration and the county desires to continue partnering with Redwood City," Callagy suggests paying the city the $1.5 million.
The county wants to do a land swap with Redwood City so it can replace the Maple Street homeless shelter. The county wants some of the city's land at 1402 Maple St. to build shelter and housing, while the city wants some of the county's land across the street so it can extend Blomquist Street. But the city wants to keep a portion of the land at 1402 Maple, across the street from the county jail, to make a park.
This issue is not expected to be discussed at today's board meeting since it is on the consent calendar, where several items are approved in a single vote by the supervisors. A supervisor could pull the item from the calendar to discuss it. Those wishing to weigh in on the matter can address it during public comment. The meeting is at 9 a.m. and can be accessed at zoom.us/join or call in at (669) 900-6833. For both, use meeting ID 976-4630-3491.