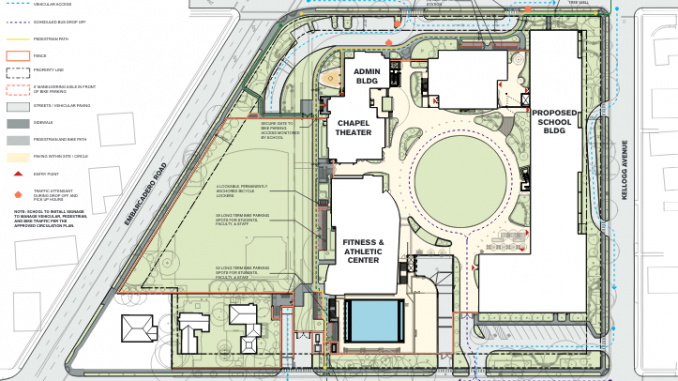 By the Daily Post staff
Palo Alto City Council will take up Castilleja school's expansion project again tonight (March 29), but the public won't be allowed to comment before the item.
At the last meeting on Castilleja, City Attorney Molly Stump said that the council should reopen the public hearing on the project when it comes back tonight because City Planning Director Jonathan Lait was going to present additional information.
Go to 7:13:16 of the Council's March 15 meeting to hear Stump say that the hearing should be reopened.
Now Stump and City Manager Ed Shikada are saying the council shouldn't take public comments on the project.
"Upon further review, staff have determined that any materials provided to the council on March 29 (tonight) will be merely illustrative rather than providing any new substance for the council's deliberations," they wrote in the memo to council.
"Specifically, the council directed staff to provide examples of text amendments related to the proposed underground garage; these text amendments will require review by and a recommendation from the Planning and Transportation Commission before they can be presented to the council for action. Accordingly, the public comment will remain closed on March 29 and the proceedings will be limited to continued council deliberations," Stump and Shikada wrote.
One opponent of the project, Jo Ann Mandinach, said she opposes closing off public comment.
"We desperately need more transparency and fewer 'fingers on the scale,'" she said in an email to the Post.
Council did hold a public hearing on Castilleja on March 8.
Castilleja, an exclusive all-girls school that charges $52,000 a year in tuition, wants to expand so it can increase its enrollment from 426 to 540 students. The school at 1310 Bryant St. wants to demolish many of its existing buildings and replace them with modern structures. Castilleja also wants to build a 78-car underground parking garage beneath the playing field that faces Embarcadero Road.
Based on comments at previous meetings by council members, it's likely that council will not give the project final approval tonight but instead send it back to the Planning and Transportation Commission, which would review changes and return it to council.
The meeting will be conducted via Zoom due to the pandemic. Here's the agenda with instructions on how to participate, should council decide to have a public hearing anyway.
The meeting begins at 5 p.m., but the first 90 minutes will be a closed session during which council members give instructions to their labor negotiators. The Castilleja item is scheduled for 6:35 p.m., though the times on the agenda aren't always accurate.
Tonight's agenda does not give a time for "oral communications," when the public can speak about any item not on the agenda.
The meeting will also be carried on Cable Channel 26 and KZSU-FM 90.1.