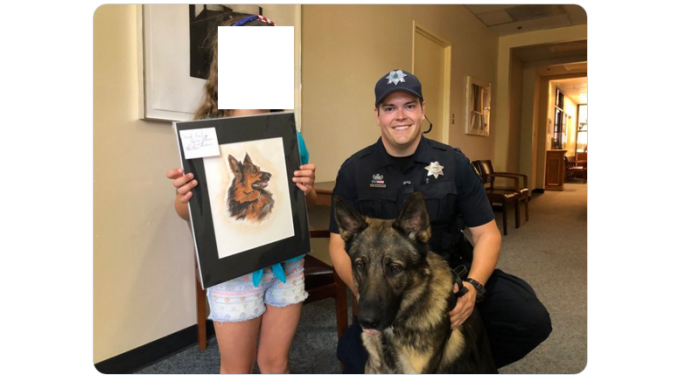 To view the dog attack, here's the video Palo Alto police released. And here's a link to the eight videos Mountain View police released.
BY KYLE MARTIN
Daily Post Staff Writer
The NAACP, whose lawsuit led to Palo Alto opening Foothills Park to non-residents, is demanding the city fire the cop who commanded a dog to attack an innocent Mountain View man in a case of mistaken identity.
Pastor Jethroe Moore II, president of the San Jose/Silicon Valley branch of the NAACP, said Police Agent Nick Enberg's failure to announce that he was going to use his dog against Joel Domingo Alejo on June 25 was "clearly an act of aggression to do harm" which "shined another light on the systemic failures of policing in Santa Clara County."
Moore also asked that District Attorney Jeff Rosen open an investigation into the attack, but Rosen has already ruled out charges. Moore said Rosen'soffice has to ensure the community that "officers are being held accountable for engaging in any unlawful or unethical conduct."
This is the same branch of the NAACP which sued to get Palo Alto to drop its residents-only police at Foothills Park, calling the restriction racist and exclusionary. The lawsuit forced the city to bend and open the park.
Moore addressed his letter to Rosen, and it was also sent to Palo Alto Mayor Tom DuBois, City Attorney Molly Stump, Councilman Greg Tanaka, Santa Clara County Supervisor Joe Simitian, Supervisor Cindy Chavez and others via email.
Neither Rosen nor Stump's offices responded to the Post's requests for comment Friday.
Moore is not the first to call for Enberg's firing. On Monday residents of Palo Alto and Mountain View called into Palo Alto's council meeting saying Enberg be fired and charges be brought against him.
Alejo's attorneys filed a $20 million claim against Palo Alto and Mountain View, which both cities denied.
'Traumatic to watch'

LaDoris Cordell, a former judge, Palo Alto councilwoman and San Jose police auditor, said she reviewed the videos released by the Mountain View and Palo Alto police departments of the attack and said the videos were "very traumatic to watch."
She said Enberg could have given Alejo better warning before commanding the dog to continually bite Alejo, and she said Alejo in no way was resisting arrest, contrary to police commands calling for Alejo to "stop resisting" during the attack.
Cordell noted that officers kept commanding Alejo to be still and not move while the dog sunk its teeth into Alejo, and added "none of those officers with the dog's teeth in their legs could have stood still."
She said she did not hear any officer apologize to Alejo after mistaking him for a kidnapper, and said the measures officers took to verify Alejo was not their suspect could have been taken before ordering the dog to bite Alejo.
About criminal charges
And Cordell said "there is no question that Mr. Alejo suffered a serious injury," but she added Rosen's decision to not file charges means he either doesn't believe any officer committed any crime in the case, or that Rosen doesn't believe a prosecutor could prove a crime was committed.
She said the only charge Enberg might be charged with is battery causing serious bodily injury, which can be either a misdemeanor or felony, but she said Enberg would likely have a "very strong defense" to such a charge.
Enberg's defense could include that he was acting as an officer of the law and that the officers had to act fast because they were looking for a kidnapper who could be anywhere at the time.
"I think either there was no crime committed, or if there were, it couldn't be proven," Cordell said. "And I think that's why Mr. Rosen decided, 'Oh, I'm not going there.'"
Cordell said disciplinary action would likely only be taken against Enberg if police determined he violated any police department policies.
Cordell said she hopes the city hires an independent investigator outside the police department to find out if he did commit any violations. But in Palo Alto, police investigate these types of incidents themselves and, she added, "in my view, any department that investigates itself cannot do it in an unbiased fashion."
However, this incident is expected to go to the city's independent police auditor to review whether the internal investigation was sufficient.