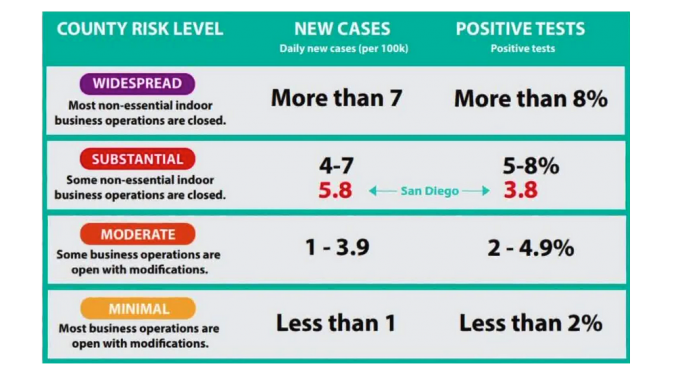 San Mateo County moved to the red tier of the state's reopening framework today (Feb. 23), meaning restrictions will loosen tomorrow after about three months of the county being in the most restrictive purple tier.
Moving to the red tier, Tier 2, will allow further businesses to reopen indoors and others will be able to expand their indoor capacity. Indoor dining will be allowed at 25% capacity and movie theaters and gyms can open indoors with some restrictions.
"This is great news for our small businesses and our entire community," president of the county Board of Supervisors David Canepa said in a statement. "And this move is a direct result of all of us taking personal responsibility for our actions. If we wear our damn masks, keep our distance and follow common-sense health and safety protocols, we can get back to doing what we all love to do."
San Mateo and Marin counties are the only two Bay Area counties to move to the red tier as the others remain in the purple tier this week. To find what activities are allowed in a county, visit https://covid19.ca.gov/safer-economy/.
The county's decreasing Covid-19 numbers prompted the move to the red tier as the state assigns tiers based on a county's Covid-19 case rate, positivity rate and a health equity metric, which is the positivity rate of census tracts in the lowest quartile of the Healthy Places Index (HPI).
For the week ending Feb. 13, San Mateo County had an adjusted case rate of 5.6 new cases per 100,000 and a positivity rate of 2.1% for the county and 3.7 percent for the lowest HPI areas.
During a meeting of the Board of Supervisors on Tuesday, Chief of San Mateo County Health Louise Rogers said the small disparity between the countywide positivity rate and that of the county's lowest HPI areas was something to applaud.
"Our goal is to drive that disparity impacting our most vulnerable communities to zero," Rogers said.
To monitor Covid-19 spread even more closely, the county released a new data dashboard showing Covid-19 case rates by census tract. Before, data showed case rates by city and this new dashboard by census tract will help the county plan for areas where vaccination access is most needed.
Vaccinations in the county will continue this week for eligible residents and workers, which include health care workers, residents of long-term care facilities, residents 65 years and older and some front-line workers. Food and agricultural workers, first responders and educators — teachers, child care workers — became eligible for the vaccine on Monday.
Dr. Anand Chabra, section chief of the county's Covid-19 mass vaccination efforts, said that despite delayed vaccine shipments, progress is steady.
Chabra said that 922 first responders, mostly in law enforcement, were vaccinated Monday at the San Mateo County Event Center vaccine clinic.
This leaves almost 40,000 front-line workers that still need to be vaccinated in the education, childcare, food and agriculture and law enforcement sectors, according to county estimates.
Further clinics are scheduled this week, including an Event Center clinic on Wednesday for 2,300 educators from high-priority school districts, the ones where staff are serving student populations with the greatest needs.
Smaller, neighborhood-level vaccination efforts are continuing via clinics in Daly City and Half Moon Bay, which can accommodate about 1,500 vaccine doses, depending on supply.
The county will also host a pilot clinic for farmworkers in partnership with Puente de la Costa Sur, a county core agency that serves the south coast communities of La Honda, Loma Mar, Pescadero and San Gregorio.
"Not everyone is going to be able to access a mass vaccination at a large site," Rogers said. "We're not going to hit huge numbers through those small local efforts but they're really critical for the people that can't make it through the mass sites."
The county is expecting 21,440 first and second doses — both Pfizer and Moderna doses — to arrive this week. This includes 14,200 Moderna doses that were supposed to arrive last week but were delayed by winter storms.
That delay caused the county to reschedule about 75 second-dose appointments at its clinics. San Mateo County Health spokesperson Preston Merchant said that those residents would be accommodated by future county clinics or through a health care provider.
Despite that delay, a mass vaccination site at SFO last week reached 12,434 people 65 years and older over four days.
Vaccinations continue to take place through health care providers like Kaiser Permanente and Sutter Health, and via pharmacies like CVS and Rite Aid. The health providers and pharmacies continue to prioritize health care workers, residents of long-term care facilities and people 65 years and older, according to their websites, and have not yet opened eligibility to other groups.
As of Monday, 130,514 people have received at least the first dose of the vaccine in San Mateo County, representing 20.3% of the county's population eligible for the vaccine.
Starting March 15, the state plans to open vaccine eligibility to individuals 16 to 64 years old with underlying health conditions.
People can visit the San Mateo County Health website at https://www.smchealth.org/coronavirus for more information on COVID-19 health data and vaccines.