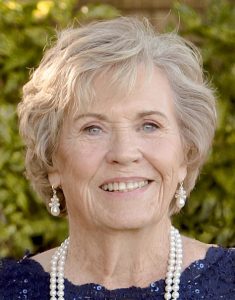 Shirley Ann Mills, a lifelong Palo Alto resident, passed away on January 4th, 2021 at the age of 86, after contracting an unknown lung infection (not Covid) on Christmas Eve. Shirley had attended Addison Elementary School, Jordan Junior High School and graduated from Palo Alto High School in 1952. She worked at Palo Alto Sports Shop and Toy World and Allstate Insurance Company prior to marrying her high school sweetheart, Frank Mills of Mills the Florist, in 1955 and took on the role of bookkeeper for the shop.
An avid golfer, she was a member of the Women's Club at Moffett Field and greatly enjoyed her luncheons with the ladies after golf. She was a member of the Palo Alto High School Class of 1952 Reunion Committee and kept in contact with many of her classmates from that era. She enjoyed refinishing antiques, vacationing at her house in Lake Berryessa, and most of all spending time with family. She brought joy to every occasion and made sure everyone was having a good time whether it meant starting up the player piano for singalongs on Saint Patrick's Day or instigating karaoke at the lake house. Her kindness, sense of humor, beautiful smile, and incredible singing voice will be forever missed.
She is survived by her husband of 65 years, Frank; her three children, Rodney Mills(Dawn), Leslie Mills (Russell) and Susie Diggle (Craig); Grandchildren, Kyle, Kelsey, Dustin, Blake, Riley and Ryan; Brother, Steve Huffaker (Paula); and her beloved dog, Lucy. She was preceded in death by her brother, Stanley Huffaker; her sister, Carol Hollars; and parents Bernice and Willard Huffaker. A Celebration of Life reception is tentatively planned for April 24th. Check her obituary in Spanglermortuary.com for updates.