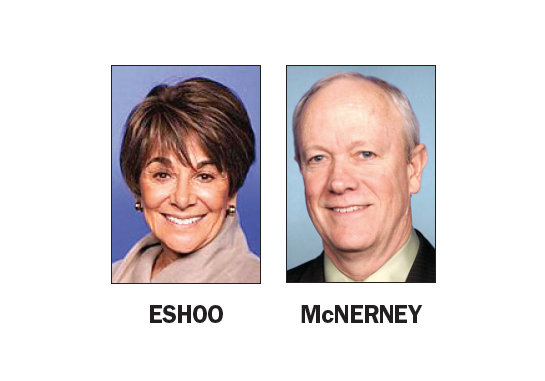 BY EMILY MIBACH
Daily Post Staff Writer
Reps. Anna Eshoo, D-Palo Alto, and Jerry McNerney, D-Stockton, have sent cable TV companies and internet providers of TV channels pointed letters asking why they carry conservative news channels. The two House members say the channels are disseminating misinformation about the presidential election and Covid.
The two, who sit on the House Energy and Commerce Committee, sent letters to the CEOs of 12 carriers including AT&T, Verizon, Roku, Apple, Hulu, Google and Xfinity, asking them why they carry the Fox News Channel, Newsmax and the One America News Network, or OANN.
The two House members also asked if the carriers apply ethical or moral principles when they decide what channels to offer.
The letters come ahead of a House hearing today (Feb. 24) called "Fanning the Flames: Disinformation and Extremism in the Media." The hearing is meant to examine the role of broadcast and cable news "in disseminating disinformation and extremist content to the American people," according to a memo from the committee.
The memo cites a Pew Research Center analysis that says over 50% of Americans get their news primarily from TV or radio programming, versus less than 20% who get their news from social media.
"While much of the blame has been placed on the widespread disinformation on social media platforms, industry participants have also noted that broadcast and cable outlets have played a role in the spread of disinformation," the memo says.
The memo from the committee appears to throw cold water on the journalistic principle of getting both sides of a story.
"Despite criticism, many traditional media outlets continue to allow for the disinformation in an attempt to follow journalistic standards and present multiple viewpoints in a news story," the memo says.
Confusing opinion and news
One issue, according to the memo, is that viewers often get confused by whether what they are watching is news or opinion.
When asked by the Post in an email if she thinks the FCC should consider regulating cable and internet-based TV providers, Eshoo responded: "My letters and the upcoming hearing are asking questions to gather information about our media ecosystem. I am not currently advocating for or proposing legislative or regulatory actions. I'm asking questions to help inform how Congress should deal with deadly misinformation."
The letters from Eshoo and McNerney have raised the hackles of some.
The Wall Street Journal's editorial page said their letters are "part of a campaign to engineer a more pliant media through coercion of the corporations that distribute information."
CNBC quoted a Republican aide for the committee saying that the two Democratic House members are "flirting with violating the First Amendment."
"Should the government be pressuring private industries to censor legally protected content and suppress the freedom of the press? No. If a free and independent press is still valued and mainstream in America, this censorship campaign should alarm every single journalist and member of the media," the unnamed aide told CNBC.
Fox News calls it a 'terrible precedent'
Fox and Newsmax are firing back at the two House members.
"As the most-watched cable news channel throughout 2020, Fox News Media provided millions of Americans with in-depth reporting, breaking news coverage and clear opinion," the company said in a statement to CNBC. "For individual members of Congress to highlight political speech they do not like and demand cable distributors engage in viewpoint discrimination sets a terrible precedent."
Newsmax, in a statement to Politico, also criticized Eshoo and McNerney.
"The House Democrats' attack on free speech and basic First Amendment rights should send chills down the spines of all Americans," Newsmax said. "Newsmax reported fairly and accurately on allegations and claims made by both sides during the (election). We did not see that same balanced coverage when CNN and MSNBC pushed for years the Russian collusion hoax, airing numerous claims and interviews with Democrat leaders that turned out to be patently false."
Eshoo says she supports the First Amendment
In her email to the Post, Eshoo said that she is an ardent supporter of the First Amendment and that her letters "do not make any law, do not have the force of law and do not threaten any laws."
"The First Amendment does not prevent me from examining the public health and democratic implications of disinformation. We're in the middle of a pandemic, and there's credible evidence that disinformation reduces compliance with public health guidelines and increases vaccine hesitancy. There's also clear evidence that disinformation enabled the Jan. 6 insurrection. This is a clear basis for beginning an inquiry," Eshoo wrote.