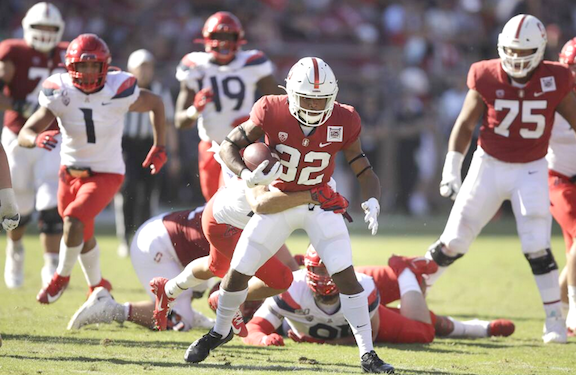 The Pac-12 Conference announced today (Aug. 11) that it has postponed all sports through the end of the year due to the COVID-19 coronavirus pandemic, which means the Stanford and Cal football seasons are canceled.
"At this point, it has become apparent that competing this fall would introduce undue risk in terms of the health and safety of participants and the spread of the virus in the communities in which competitions were scheduled to take place," said Stanford Athletic Director Bernard Muir in a statement. "Beyond the widespread prevalence of COVID-19 across our country right now, there are also still many unknowns with respect to the potential long-term health implications of the virus for those who contract it, even for young people who may not experience severe symptoms in the short term."
The Pac-12 CEO Group unanimously voted to postpone the fall sports calendar after consulting with the conference's Medical Advisory Committee over concerns for player and coach safety.
Pac-12 officials also said they would consider a return of postponed sports in spring 2021 if conditions improve.
"Unlike professional sports, college sports cannot operate in a
bubble," Pac-12 Commissioner Larry Scott said. "Our athletic programs are a part of broader campuses in communities where in many cases the prevalence of COVID-19 is significant."
Pac-12 officials said that student-athletes will have their scholarships guaranteed despite the cancellation of sports in 2020.
Conference officials also encouraged the NCAA to grant an
additional year of eligibility to students who opt out of their sports during the 2020-2021 academic year.
Also today, the Big Ten Conference — which includes Ohio State, Michigan, Nebraska and Penn State — pulled the plug on fall football as well.
Two smaller conferences, the Mid-American and Mountain West (which includes San Jose State), had already announced the uncertain move to spring football. The decisions by the deep-pocketed Big Ten and Pac-12, with hundred million-dollar television contracts and historic programs, shook the foundation of college sports.
Players around the country were stunned. Many had recently taken to social media with the hashtag #WeWanttoPlay. Ohio State star quarterback Justin Fields was among those trying to present a unified front and save their season.
After the announcement, Fields simply posted to Twitter: "smh," short for shaking my head.
"Our lives are changing forever right before our eyes," Arizona offensive lineman Donovan Laie tweeted.
The cost of losing football will be devastating to athletic departments. The Big Ten distributed more than $50 million to most of its members in 2018, but most of that came from media rights deals and a conference TV network powered by football. Maybe some can be recouped in the spring, but there are bills to pay now.
— From wire reports