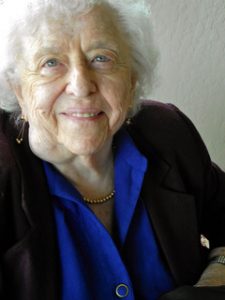 September 1, 1920 – September 11, 2020
Harriet Pedersen, a resident of Palo Alto for 62 years, died peacefully only 10 days after celebrating her 100th birthday! Born in Montevideo, Minnesota, she married her childhood sweetheart, Robert (Bob) Pedersen in 1944. She proudly proclaimed that her career was as a homemaker, raising her four children: Kristin Pedersen Owen (Doug Owen) of Santa Cruz, Calif.; Maren Pedersen of Palo Alto; Greta Pedersen (Mark Hanson) of West Linn, Ore.; and Erik Pedersen of Santa Cruz, Calif. She was also very active in PEO, a Women's Philanthropic Educational Organization dedicated to women's education, holding several offices including President at the local level, as well as offices in Reciprocity.
Harriet and Bob moved to Channing House in October of 1996 so Harriet could "retire;" Bob died in 2001. We are blessed by the love of music that she gave us and her willingness to allow her worldview to evolve.
She is a beloved grandmother of 9: Dai Owen (Andra Pligavko), Megan Owen Scott (Andy), Robert Owen (Daniella Oana), Kia Owen Nesmith (Jonny), Liv Herriot (Timur Bilir), Neil Herriot, Marta Hanson, Johanna "Hanni" Hanson, Kimberly Pedersen; and great-grandmother of 8, ALL great-granddaughters! Harriet expressed love for her family and caregivers to the end.
The family is exceedingly grateful for the love and care Harriet received from the Channing House staff, especially during her last few months when visiting was limited due to COVID-19. An on-line service will be held at a later date. Donations may be made to the Ecumenical Hunger Program: https://www.ehpcares.org or the P.E.O. Educational Loan Fund: https://donations.peointernational.org/peo-donation-elf.