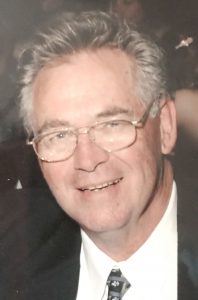 March 21, 1942 – January 12, 2021
Affectionately known to some as "Georgie". Passed away peacefully at his home in Mountain View after a well fought battle with cancer. Born in Oakland to parents, George Chandler Pitt and Ellen Sharpe Pitt. The family moved to Auburn and then to Menlo Park.
George went to Menlo-Atherton High School where he played Frosh-Soph and Varsity football, Varsity basketball and was a member of the A Cappella choir. He graduated in 1959 and in Feb. of 1960 he enlisted in the US Army training center at Fort Ord . There he graduated from boot camp, 9th Battle Group 3rd Brigade.
George married Susan May Blake in 1966 and went to work for McClenahan's Tree Service Company as an Arborist for many years. Retiring at an early age George was able to pursue his avid love of golf. A 40 year member of Palo Alto Hills Golf & Country Club. He enjoyed time with his family, traveling, watching competitive sports and reading non-fiction. The highlight of his week was the camaraderie he shared with the boys at their weekly lunches.
George was preceded in death by his parents, younger brother Roy and wife Susan. He is survived by their two children, William Pitt (Angie) and Laurie Hansen (Chris). Grandchildren Ashley, Tiffany, Travis and Cody. Great grandchildren Aiden, Emma and Allie. Older brother William Pitt, sister-in-law Harriet and their family and his partner of 19 years, Penny Rasnick.
He is and will always be truly missed.