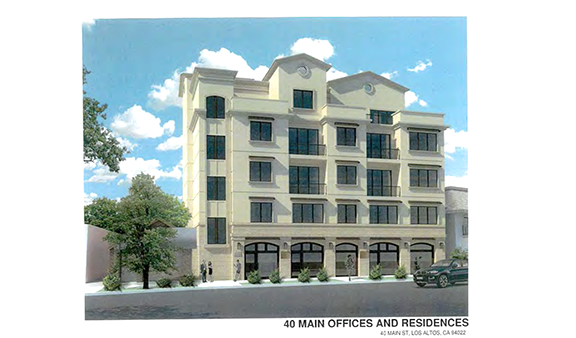 By the Daily Post staff
Los Altos City Council has voted 5-0 to drop its appeal of a ruling that said the city broke three state laws and acted in "bad faith" when it denied an application for a five-story apartment and office building at 40 Main St.
The city threw in the towel after the judge, Helen Williams, ordered the city to post a $7 million bond during the appeal. And if the city lost the appeal, it would be required to pay the full amount of the bond to the developers plus attorneys fees, which would likely exceed $10 million.
"The council determined that the potential cost of the litigation could severely impact the city's ability to provide even basic municipal services," the city said in a statement. "In light of this huge financial risk to the city and the uncertainty and risk of losing the appeal, the city council decided to withdraw the appeal."
The council vote to drop the appeal came during an unusual Saturday meeting behind closed doors. The meeting was revealed today in the statement issued by city officials.
The city said in the statement that it will hold a public meeting to issue a permit to the developers, Ted and Jerry Sorensen, on Thursday (Sept. 10) at 7 p.m.
The meeting is a formality because the judge's decision on behalf of the Sorensen's in April requires the city to issue the permit, whether city officials like it or not.
Judge Williams, in her April 23 ruling, said city officials acted in "bad faith" and they violated three state laws:
• Senate Bill 35 from the 2017 state legislative session, which aims to streamline the review process for certain housing projects;
• the Housing Accountability Act;
• and the density bonus law that allows larger buildings than cities would permit if low-income housing is part of the project.
In addition to providing incentives for building housing, the laws are intended to remove the roadblocks that cities often throw in the way of new housing projects.
The SB35 streamlined process is available for housing projects in cities such as Los Altos that haven't met their state housing quotas. It removes any requirement for a conditional use permit. It also sets a time limit to review the project of 90 or 180 days from when an application is submitted, depending on the project size.
After their application for streamlined review was denied, the developers notified the city they were going to take the matter to court.