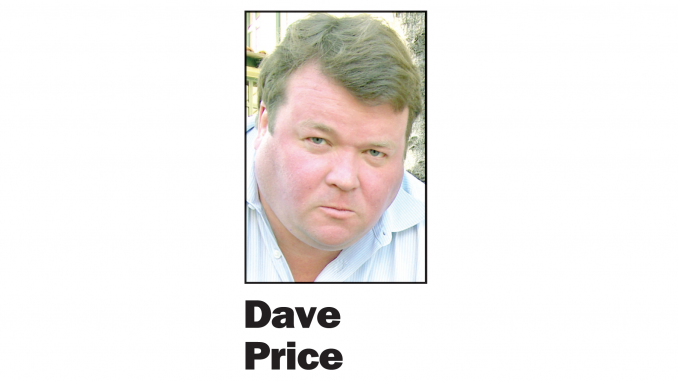 OPINION
BY DAVE PRICE
Daily Post Editor
The coronavirus pandemic is bad enough, but why does it have to come with annoying slogans?
Here are a few that are grating on me:
• "We're all in this together" — This is total B.S. You're telling me the people who have jobs that allow them to never leave their homes are "in this together" with people who have to go out and earn a living every day, like grocery store clerks, gardeners or plumbers? A housekeeper takes considerably more risks on her job than the typical Facebook employee.
• "In these uncertain times" — When have times been certain? In certain times, nobody gets fired and nobody dies. If things were certain, everyone would have married their high school sweetheart. There would be no point in betting on sports or playing the stock market because the outcome was certain. Life has always been uncertain and unpredictable.
• "This is our new normal" — When I heard Santa Clara County Manager Jeff Smith say this, I felt like vomiting. When an authority figure tells us this is the "new normal," it means the government feels it was able to take away our rights without a fight. But it's not normal for a waiter in a mask and rubber gloves to serve you food. It isn't normal to have first-graders taking online classes. We will return to normal, and the government should either cooperate with the people or get out of the way.
• "Stay safe" — Oh, gee, thanks for saying that to me. I was thinking of slitting my wrists during lunch today, but instead I'll have a second cup of coffee because of your sage advice. Of course we want everyone to stay safe. We want it so bad we're willing to wreck our economy, destroy jobs and businesses, and derail our kids' education.
When people say "Stay safe," they don't know what else to say. They're trying to come up with something that sounds palatable and kind. It's the COVID-19 substitute for "have a nice day."
But all of these terms sound like something made up by an ad agency that tested them with focus groups and polling.
Why would big corporations and big government push these phrases on the public? These slogans reinforce the idea that we shouldn't ask questions, we shouldn't demand our constitutional rights and, most of all, we shouldn't revolt.
Because, remember, in these uncertain times, we're all in this together. So stay safe.
Editor Dave Price's column appears on Mondays. His email address is price@padailypost.com.