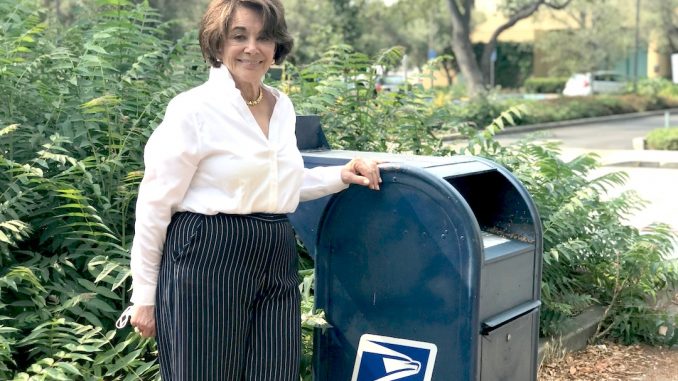 BY SARA TABIN
Daily Post Staff Writer
Congresswoman Anna Eshoo said the proposed removal of blue Postal Service mail boxes in Palo Alto is part of a larger problem across the country coming under threat.
After putting up notices that some blue mailboxes in south Palo Alto were going to be removed last week, the Postal Service backtracked after the Post began asking why the mailboxes would be removed.
Retired judge and former Palo Alto councilwoman LaDoris Cordell suggested the removal might be a form of voter suppression, but USPS spokesman Augustine Ruiz said that the blue mailboxes are often removed for lack of use and then installed in areas that are growing.
Speaking outside of Palo Alto's post office on Hamilton Avenue today, Eshoo said outcry from people across the country has prevented post boxes from being removed. She said boxes were unbolted and hauled away on the backs of trucks in different states.
"It was because of the outcry in those states that the postmaster general announced that that would be temporarily stopped," said Eshoo. "People's voices matter."
Eshoo denounced what she says are attacks on the postal service by President Trump. She said he appointed Louis DeJoy as postmaster general so that DeJoy could dismantle the postal service.
She said her constituents rely on the postal service to get deliveries, including cancer and heart medicine, on time. She said the postal service will also be critical for delivering millions of ballots this November.
Eshoo said the lack of support for the postal service by the federal government amounts to "election theft."
Lisa Ratner of the League of Women's Voters said mail-in ballots don't help one party over the other but they do increase voter turnout overall.
Eshoo said California is in a better place than other states for mail-in voting because the state is already planning to send every eligible voter a mail-in ballot.
Other states rely more on in-person voting, which might be an issue with the coronavirus pandemic.
"When you receive that ballot, fill it out immediately," Eshoo said. "Don't wait, fill it out and mail it by Oct. 15."
Congresswoman Jackie Speier, D-San Mateo, also held a press conference outside the Belmont Post Office about the Postal Service today.
Jim Irizarry of the San Mateo County Elections Office said ballots must not be postmarked past election day. Under current state law, ballots will be counted if they arrive up to 17 days after election day as long as they are postmarked before election day. He said the county uses signature matching to prevent election fraud from mail-in ballots.