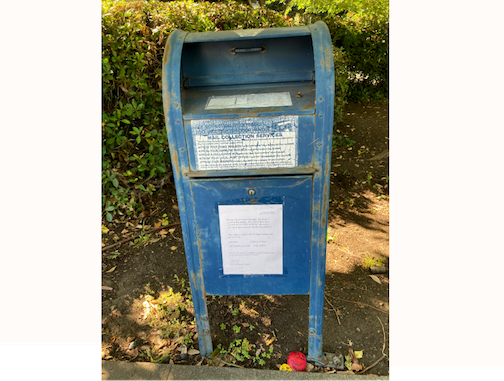 BY EMILY MIBACH
Daily Post Staff Writer
After putting up notices saying that some blue mailboxes in south Palo Alto were going to be removed, the United States Postal Service backtracked yesterday (Friday, Aug. 14) after The Post began asking questions.
South Palo Alto resident and retired judge LaDoris Cordell sent the Post a photo late Thursday with a notice posted on her neighborhood's blue mailbox at Tennessee Lane and Park Boulevard, and another near the Goodwill at El Camino Way and West Meadow Drive.
"All of a sudden the mail volume is so low that they are shutting down our mailboxes just 80 days before the election?" Cordell wrote in her email to The Post, suggesting that the boxes may be removed in an attempt to suppress voters.
USPS spokesman Augustine Ruiz said that the blue mailboxes are often removed for lack of use and then installed in areas that are growing.
"It has absolutely nothing to do with someone's unsubstantiated fear that it has anything to do with voter suppression," Ruiz wrote in an email to the Post.
The Post sent an email to Ruiz around 10:45 a.m. yesterday asking about the removal of the boxes. At 3:30 p.m., Ruiz sent an email to The Post stating: "We are suspending the removal of collection boxes at this time. All postings on collection boxes will be removed, as we will no longer be pulling any boxes."
This means that residents in south Palo Alto, or anywhere else where similar notices have popped up, do not have to worry about their mailbox being removed.
'Stunning, terrifying'
Cordell was relieved that her neighborhood mailbox wasn't going away, but is still worried that the USPS was planning to take away mailboxes.
"It's stunning and terrifying," Cordell said.
Such notices have been posted across the country, with some boxes already having been removed in Oregon, New York, Montana and Indiana.
CNN reported last night that the Post Office had decided to stop the removal of mailboxes until after the election, but the list provided to that outlet did not include California.
Public demand a factor in box removal
Ruiz explained that the Post Office does periodic checks on mailboxes to see how much they are used, if a mailbox has less than 25 pieces of mail deposited into the box daily, then it may be slated for removal.
However, if a certain mailbox is the only means for sending a letter in a "neighborhood, business center or senior citizen complex," as Ruiz put it, then the Post Office could decide to keep the mailbox there.
Ruiz also noted that when a mailbox gets consistently low mail for months on end, it costs the Post Office money in fuel and workhours for letter carriers to drive to the mailbox and get the mail.
"Removing the box is simply good business sense in that respect," Ruiz said.
Recently, new U.S. Postmaster General Louis DeJoy called the Post Service's financial situation "dire," with the postal service anticipating a $21 billion loss for the fiscal year that ends Oct. 1, according to a report by Fortune. DeJoy has accepted a $10 billion loan from the federal treasury.