BY SARA TABIN
Daily Post Staff Writer
Mountain View City Council has unanimously approved two new seven-story buildings with 303 apartments and condos on N. Shorline Boulevard on the site of the former Fiesta Del Mar Restaurant near Highway 101.
A 203-apartment building and a 100-condo building will replace an office building on a 7.8-acre site at 1001 N. Shoreline Blvd.
The project, which was approved Tuesday during an online meeting held via the Zoom platform, is by Sares Regis Group of Northern California.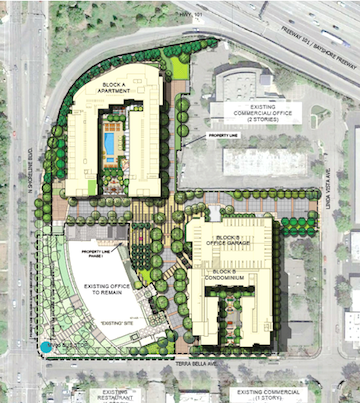 Councilwoman Ellen Kamei said on Twitter that the development is the culmination of five years of hard work and that Mountain View is a leader in housing.
Palo Alto Mayor Adrian Fine re-tweeted her post and said he wishes Palo Alto would follow suit.
"@mtnviewcityhall, @CityofSunnyvale and @RedwoodCity regularly approve projects that exceed what @cityofpaloalto permits over many years," he tweeted. "They are showing how #LocalControl can be effectively used to plan for growing diverse and inclusive communities. I wish we would do the same."
The project will offer 30 below-market-rate apartments for rent and 10 below-market-rate condos that people can buy. The average below-market-rate apartment will be offered to people earning 65% of the area median income, meaning a family of four could earn $102,635 to qualify.
The below-market-rate condos will be offered to people earning 90% of the area median income, meaning a family of four could earn $142,110 to qualify.
There will be 3,000 square feet of ground-floor retail space in the apartment building.
The project will have a total of 783 parking spaces between two garages and a parking lot, which is enough parking, according to the city.