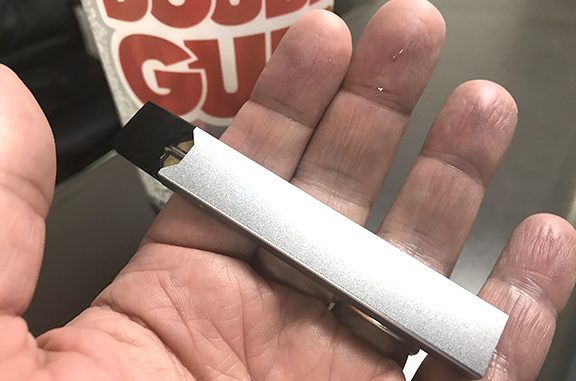 This story originally appeared in Saturday's print edition of the Daily Post. Only a fraction of the stories the Post prints appear on this website, padailypost.com. To get all of the local news, pick up a copy of the Daily Post every morning at 1,000 Mid-Peninsula locations.
BY SARA TABIN
Daily Post Staff Writer
Palo Alto City Council is poised to ban e-cigarette sales at its Dec. 9 meeting amid concerns about youth vaping.
Three council members — Adrian Fine, Alison Cormack and Greg Tanaka — wrote a memo to the rest of the council requesting an immediate ordinance that would prevent stores from selling any electronic cigarettes and any nicotine pods or liquids that are used for e-cigarettes.
The goal is to stop youths from using e-cigarettes, which is called vaping. It is already illegal to sell nicotine to those under 21, but people around the country have become concerned that kids are getting their hands on vaping devices anyway.
In April, members of the Youth Council, local teens who weigh in on city issues, told City Council that there are at least two stores in Palo Alto that illegally sell nicotine products to teenagers. Santa Clara County expanded its ban on flavored tobacco products, which some people say are targeted at minors, and banned selling vaping devices this month. The county's ban on selling vaping devices will be phased in as businesses apply to renew their retail licenses. The memo also asks for $25,000 to go
to the Healthy City working group for an educational campaign against youth vaping.
For the council to pass an ordinance on an "urgency" basis — which means it will go into effect immediately without a second reading at a subsequent council meeting — it will have to be approved by five of the seven council members, a supermajority.
Legislation that is passed through the normal procedure needs four votes to be approved, a simple majority.
A vaping ban was proposed at a council study session with the Human Relations Commission on Oct. 21.
Commission Chairwoman Gabriel Kralik said his son constantly sees other students vaping in his middle school bathroom. Councilman Tanaka said his kids also see other students vaping in school bathrooms.