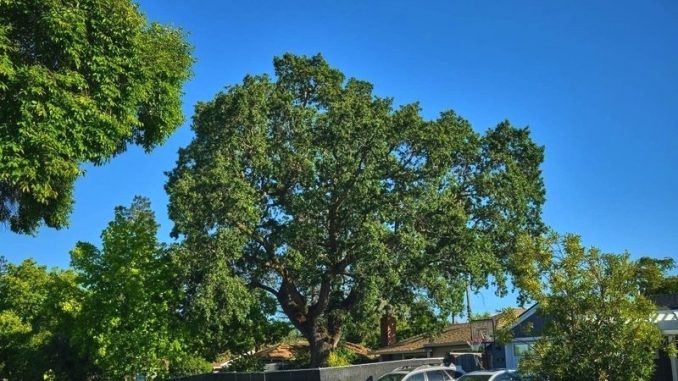 BY EMILY MIBACH
Daily Post Staff Writer
Redwood City residents are trying to save a 350-year-old oak tree in the Woodside Plaza neighborhood, submitting a petition with over 1,000 signatures to the city council yesterday.
The local development company, Thomas James Homes, is planning to build a home at 1266 Connecticut Drive, which has an oak tree that passers-by and residents have been admiring since before there was a Redwood City.
"That tree was there when our neighborhood was rolling grass hills and Native Americans were foraging the area for food. Thomas James sent us a drawing of the house they're going to build there and the trees are gone. I've stood in my yard and looked mesmerized at that tree for 26 years," next-door neighbor Matt Soderer posted on social media on Sunday.
Johanna Rasmussen, a family friend of Soderer, saw his post and decided to make a petition she sent the City Council.
"I can't imagine that in any community on the Peninsula people would say 'fine, cut that tree down," Rasmussen said.
The tree is healthy, according to a post that Rasmussen quoted on her petition from someone who used to live at the house.
Thomas James Homes submitted a proposal to the city on Thursday, according to the city's online planning permit tracker. The application is still under review. Messages left for Thomas James Homes at its Redwood City office were not returned.
Some residents say Thomas James Homes has been taking advantage of Redwood City's lack of design guidelines that prevent "tear-downs" — when a developer buys a home, tears it down and then rebuilds it so it covers more of the lot, and sells it for double the purchasing price as a result. Burlingame and San Carlos have guidelines to protect neighborhoods from teardowns.
Thomas James Homes has done or has applied to do such tear-downs at 15 locations around Redwood City, according to resident Kris Johnson, who keeps an eye on development issues.
Before the tree is cut down, it must be looked at by an arborist or someone sent out by the city, according to the city's code relating to trees.
It may be possible for the city to establish that tree as a heritage tree, as under the 1972 ordinance, the city's parks and recreation commission must declare a tree to be a heritage tree if it fits one of three conditions:
• Has a historical significance,
• Is indigenous to the area, or
• It is one of a group of trees that are dependent on each other for survival.
Residents who have signed Rasmussen's petition shared memories about the tree and opined on the idea of chopping the tree in general.
"I've spent many a summer Sunday afternoon under this tree as we built community by exchanging produce under it. I'm sure the tree could tell many other stories. Trees, and especially mature trees, are critical as oxygen sinks. Cutting this down is part of destroying our community," wrote Claire Felong.
"Thomas James Homes is a disease," wrote Clifton Smoot.
"We should preserve these ancient trees. A house remodel can be adapted to fit with the tree. But a tree cut down is simply gone!" wrote Sara Ajayi-Dopemu.
"This a heritage tree. If a resident of the home tried to have a healthy heritage tree removed, it would never be allowed. Somehow, developers seem to think they don't have to abide by the rules," wrote Dan Ponti.
ᐧ