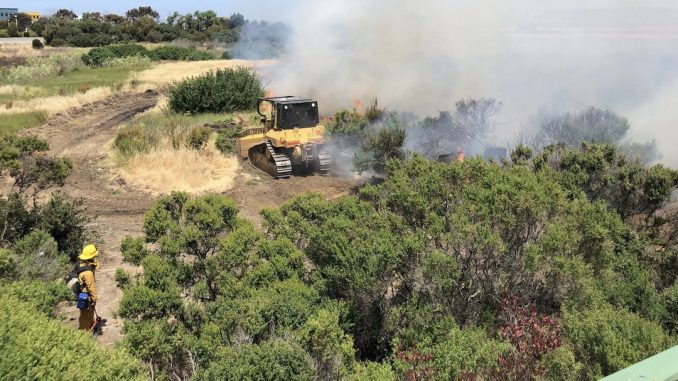 BY EMILY MIBACH
Daily Post Staff Writer
A grass fire in the homeless encampments along Bayfront Expressway, across from Facebook, cast smoke into Palo Alto and East Palo Alto on Friday (May 22), the third fire there in a week.
There was so much smoke that the Menlo Park police department issued a health advisory to residents. The fire was called into firefighters at 11:15 a.m., near Extra Storage at 1520 Willow Road. The fire was completely extinguished in about six hours, according to Fire Chief Harold Schapelhouman.
Schapelhouman said this is the third fire to occur in the "triangle" bound by Willow Road, University Avenue and Bayfront Expressway.
The fire is believed to have started at an encampment and spread to the vegetation in the area.
As the fire was being fought, the Menlo Park City Council appointed Mayor Cecilia Taylor and councilman Ray Mueller to be on a subcommittee that would work on issues related to the encampment, which has been a source of concern for both firefighters and police over the years, with a shooting occurring near Thanksgiving in 2017.
Yesterday's fire was hardly the first fire to break out in the area along the Bayfront.
On March 28, 2016, a fire broke out that engulfed 13 acres, and flames were as high as 6 feet. That fire threatened to jump across University Avenue before firefighters were able to contain the fire.
Schapelhouman has previously said that fires start in the encampments either as food or warmth fires that get out of control or by some of the residents of the encampments trying to "smoke" others out.
The fire chief has also said that there are booby traps in the marsh land, such as trenches dug out around encampments and barbed wire, to the point where the fire chief has previously told the Post that he's worried about his firefighter's safety when responding to fires out there.