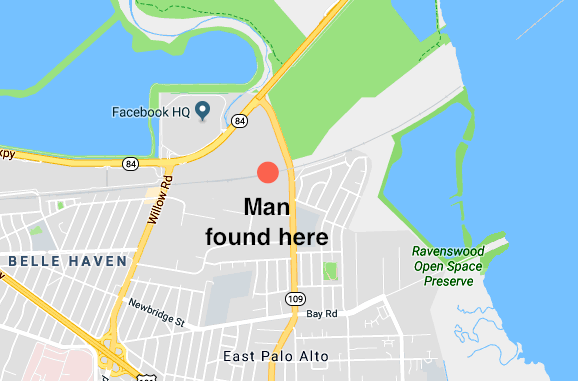 BY EMILY MIBACH
Daily Post Staff Writer
A transient was shot several times in Menlo Park after an argument over drugs, according to the Menlo Park police chief.
The victim is recovering from surgery at Stanford Hospital and is expected to survive, according to an email to City Council from Police Chief Robert Jonsen.
Both the victim and the shooter lived at the homeless encampment located in the marsh area southwest of the Dumbarton Bridge, and they had been smoking meth Wednesday before getting into an argument, Jonsen said in the email to council.
Officers have identified the shooter and are looking for him, according to Jonsen's email.
At 5:20 p.m. Wednesday (Nov. 22), police got a call about a person suffering from abdominal bleeding on the decommissioned Dumbarton railroad tracks, near University Avenue and Bayfront Expressway.
The victim — a Latino man in his 30s — was rushed to Stanford Hospital. Menlo Park police and other agencies surrounded the area as they searched for the shooter.
Police said they found several homeless encampments. The occupants were detained, interviewed and released, police said. While no arrests have been made, police said they have several leads they're investigating.
This is not the first time there has been trouble at the area near the homeless encampment, referred to as the Kavanaugh Tract. Last year there were three fires in the area, including one on March 28, 2016, that burned about 13 acres.
The council recently approved an agreement with Facebook to fund six new officers to the tune of $11.25 million over five years to patrol the city's east side, including Kavanaugh Tract.