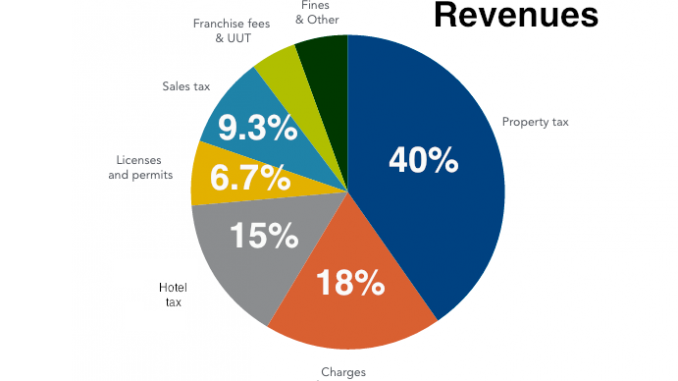 BY EMILY MIBACH
Daily Post Staff Writer
Faced with a $12.7 million budget shortfall for the fiscal year that begins on July 1, the Menlo Park City Council last night grappled with whether the city ought to use some of its rainy day funds to patch up the budgetary hole.
Finance Manager Dan Jacobson presented the council with the idea that it cut $10.67 million — $4.57 million in employee costs and $6.1 million in city operational costs. The remaining $3.7 million of the budget hole would be covered by the city's "economic stabilization fund."
However, most of the council was not happy with the idea of pulling $3.7 million out of the fund, especially since the city is also looking at taking $2.32 million out of the fund because of loss of revenue for the current financial year, which ends on June 30.
What the $3.7 million would be used other than making up for the city's shortfall was not explicitly laid out.
Nearly all of the council members said they are alright with taking the $2.32 million out of the fund because the COVID-19 pandemic and the economic havoc it has caused was not foreseen when the council approved the budget 10 months ago.
But since it is expected that it will take years for the economy to recover, the council wants Jacobson and City Manager Starla Jerome-Robinson to take a look at the budget to find where else to cut before pulling from the city's stabilization fund.
The city's current budget is $68 million.
Councilman Ray Mueller pointed out that between the two years, the economic stabilization would go from $14 million to about $8 million.
The council also went over reductions to the city's fund that pays for infrastructure projects around town. Public Works Director Nikki Nagaya presented roughly $5.1 million in cuts to the city's fund. Some of the items that will be put off include a study for the long talked about downtown parking garage and the city's "Welcome to Menlo Park" signs.
The council asked Nagaya to look beyond postponing future projects and to see what projects were not spent this year where the money can go back into the city's general fund and help with the deficit.