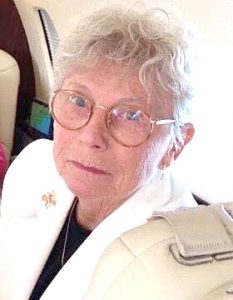 1939-2020
Mildred Martha Daume Mario, former chair of the Palo Alto Historic Resources Board and past president of the statewide California Preservation Foundation, known to everyone in town as Millie, died April 17th in Key West after a year-long battle with cancer. She was 80.
Born in Brooklyn to German immigrant parents who had fled the collapsing Weimar Republic in 1930, she was educated in New York City public schools, and was awarded a scholarship to Hunter College. Her mother, who did not believe girls should go to college, insisted her youngest daughter join the workforce as her three sisters before her had done, so Millie embarked on a brief career as an executive secretary at CBS and Bristol Myers in Manhattan, jobs for which she freely admitted in later years she was not well suited.
In 1961 she married Ernest Mario of Clifton, NJ, whose best friend, Bob Stier, had married Millie's elder sister Edith a few years before. The couple relocated to Rhode Island, where Ernie earned his PhD and their sons Christopher and Gregory were born. In 1966 they moved to Rochester, NY, where Ernie began his career in the pharmaceutical industry. Their third son, Jeremy, was born in Rochester.
In 1972 the family returned to Millie's husband's native New Jersey. In Princeton, Millie began what would become a life-long devotion to historic preservation with the restoration of a landmark 1934 Tudor Revival house built by a founder of Princeton Hospital, long before historic preservation became fashionable.
Ernie's career took the couple to North Carolina and then London in the late 1980s and early 1990s, where Ernie was chief executive of Glaxo, then the second-largest pharmaceutical company in the world. In those days, it was customary for the wife of a British CEO to act as an ambassador for her husband's company, a role Millie adopted with passion and skill, and for which she was paid the princely sum of one pound per year. As she later said, when she was first diagnosed with Stage IV cancer in March 2019, "I'm a girl from Brooklyn who has traveled the world by private jet and I have been everywhere. I've had an amazing life."
In 1993, famed Palo Alto entrepreneur Alejandro Zaffaroni asked Millie's husband to head Alza Corporation, then based on Page Mill Road. Looking for a place to live, Millie was convinced by her son Chris, who had attended Stanford a few years before, to look at a very large, very grand, and very dilapidated house on University Avenue. The John Adams Squire House would become Millie's most ambitious and successful restoration project. A 1904 Classical Revival landmark once owned by the city and the subject of fierce political battles for decades, the house had avoided the wrecking ball more than twice. Millie's award-winning transformation of the supposed white elephant into one of the city's most beautiful private residences led to her appointment to the HRB, which she would chair for eight years.
During Millie and her husband's ownership, the Squire House hosted innumerable public and private events, from fundraisers to charity dinners to concerts to house tours that thousands – including Steve Jobs once – stood in line to see.
Millie loved to tell the story of how the morning after one tour, on a Sunday at 6:30 a.m., her phone rang. "Hi Millie, this is Steve Jobs." "Hi Steve. What can I do for you?" she responded. Jobs wanted to demolish a house next to his own in Old Palo Alto to plant an orchard. Would the HRB allow him to do so? "Can't say for sure, Steve," she said, "but we'll consider it." The orchard stands for all to see today. How he knew Millie's phone number – in the days of landlines – remains a mystery.
Millie was an active participant in the life of the city and state as a board member of Palo Alto/Stanford Heritage, the Palo Alto Historical Association, and the Women's Club of Palo Alto. She also joined the board of the California Preservation Foundation, a statewide historic preservation advocacy and educational organization, eventually serving as president.
When her husband Ernie sold Alza to Johnson & Johnson in 2001, Palo Alto news reports identified Ernie as "husband of former HRB chair Mildred Mario," which both Millie and Ernie found amusing, given his rather more well-known career as an international pharmaceutical executive.
Ernie and Millie returned to the east coast in 2001 to be nearer to their children and grandchildren, eventually settling in Key West. But they maintained close ties to Palo Alto, owning an apartment at The Hamilton, the senior living condominium on Byron Street downtown, until just last year. At The Hamilton the couple befriended a who's who of Palo Alto in the second half of the 20th century: Sam and Kim Webster, Leonard and Shirley Ely, Frank Roberts, Von and Pat Eshleman, and Emery and Nancy Rogers.
Just prior to the millennium Millie fought tirelessly alongside a group of formidable local preservationists to pass Measure G, an initiative on the ballot in March 2000, that would have prohibited the demolition of privately owned homes in historic districts in the city. Those fellow preservationists became treasured friends: historic experts Dennis Backlund and Steve Staiger, former mayors Karen Holman and Gail Woolley, builder Laura Ferrell, former council member Emily Renzel, and Millie's best friend, lifelong Palo Altan Debbie Nichols.
After Measure G was defeated, ironically on the votes of homeowners who did not live in historic districts, Millie gradually withdrew from Palo Alto politics. She was horrified in later years to see the destruction of so many historic homes, especially those designed by iconic Palo Alto architect Birge Clark.
In addition to her active participation in the life of her beloved Palo Alto, Millie was an exceptional wife and a loving if strict German mother, who doted on her grandchildren. The bacon and French toast breakfasts she made for them is a memory those grandchildren will always treasure, and her loving daughters-in-law Lauren (Greg) and Jennifer (Jeremy) will never be able to replicate.
Millie was uniquely tough, strong, wise, patient, opinionated, and kind. But as anyone who ever appeared before her at the HRB will recall, she had little time for doubletalk or subterfuge. She cut to the point at every opportunity.
Millie saw the best in everyone, was generous with her affection and her time, and would have done absolutely anything for her grandchildren. She loved the beach, the daily New York Times crossword, Scrabble, the gym, her three sisters (Elisabeth Knocklein of Garner, NC; the late Edith Stier of Clifton, NJ, and Anna Daume of Ridgewood, NJ), a tasty Black Russian with lots of ice, and was absolutely insistent the entire family would be together for Christmas and the Fourth of July every year.
Millie is survived by her husband, her three sons, and eight grandchildren: Christopher's daughter Millicent, of Washington, DC; Gregory's children Griffin, Chloe, Madeleine, and Brigitte, of Miami; and Jeremy's children Gretchen, Reid, and Charles, of Durham, NC.
Donations in honor of Millie's life may be made to the Palo Alto Historical Association, PO Box 193, Palo Alto, CA 94302.
A memorial is planned in Princeton this fall.