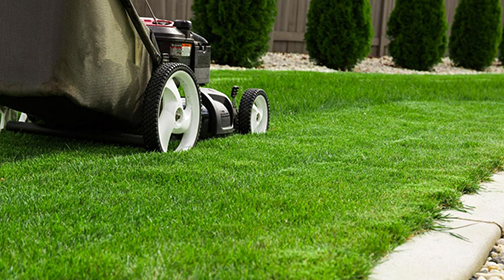 BY EMILY MIBACH
Daily Post Staff Writer
After hearing from residents frustrated that the San Mateo County health order aimed at reducing the spread of COVID-19 also bans their lawns from being mowed, Atherton's City Council yesterday decided to send a letter to the county asking it to reconsider regulations on gardeners.
Mayor Rick DeGolia said that he hopes the letter will "have some influence" on the county officials who are working on the new county health order, which is expected to come out next week.
During a Friday virtual town hall meeting with Congresswoman Anna Eshoo and DeGolia, a handful of residents asked about letting their gardener come to do some yard work since they don't own a lawnmower, while others said that since their yard is not being maintained, they are having serious allergy issues.
Criticism from neighbors
Resident Anne Walker said she has severe grass allergies and cannot take medication for it. When DeGolia said she can hire a gardener and explain the situation if she is challenged, Walker responded that she had hired a gardener and neighbors sent her nasty emails.
Others in town have been simply ignoring the order, and still have their gardeners perform yard maintenance at their home.
Under the county's stay-at-home order, gardeners can only do their jobs to maintain the sanitation, habitability and safety of a property. For instance, if a yard is so overgrown that it becomes a fire hazard, then a gardener can be hired to clear out the vegetation.
Why are gardeners banned?
Councilman Mike Lempres said yesterday that the county has not "articulated a reason" why gardeners can't be essential workers, so people don't understand the rule and therefore don't listen to it.
Town Manager George Rodericks said that the concern over gardeners is that they work at multiple houses a day in several communities, so if they are sick, or come into contact with someone who is sick, the virus may get spread to others.
However, it was mentioned at the town hall meeting that many homeowners don't come into contact with their gardeners when they're working.
The draft letter that the council went over last night is set to be sent to County Supervisor Don Horsley, Health Officer Dr. Scott Morrow and County Manager Mike Callagy. It will ask that the county reconsider the ban on gardeners because people may not have their own yard work equipment, or have allergies that keep them from doing yard work.
Precautions suggested
The letter will include a few ideas for conditions gardeners ought to follow if they return to work, such as making sure they wear masks and gloves, clean equipment between uses and not congregate.
Atherton is not the only town where residents are missing their gardeners. During Menlo Park Mayor Cecilia Taylor's virtual town hall meeting on Thursday, at least four of the dozen or so questions she fielded related to gardeners and yard maintenance.
One resident during that meeting requested that the city turn a blind eye to gardeners and not have police send them on their way.