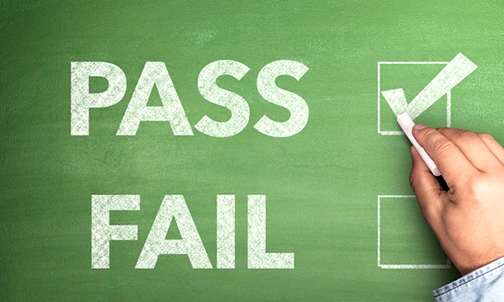 BY SARA TABIN
Daily Post Staff Writer
Palo Alto parents said yesterday that the school board should have had an open process with a vote rather than letting Superintendent Don Austin switch the district from letter grades to pass/fail.
Austin defended the move at last night's board meeting. He said colleges have said they understand the unique circumstances students face this semester with schools closed because of the coronavirus shutdown and won't hold pass/fail grades against applicants.
He said pass/fail grades are fairer to students who don't have good internet access or lack tutors.
Still some parents aren't happy about it.
Steve Toteda, who helped start a petition with over 500 signatures of people against the pass/fail policy, said the school board has a responsibility to make decisions on the record rather than having the superintendent make major changes unilaterally.
Karen Hickey said representatives from a virtual college panel she participated on said they are still looking for academic rigor and improvement. She said the change to pass/fail made her junior daughter feel like the effort she has put in this semester to improve her grades had been a waste. Hickey said she wants the district to think of other ways, including teacher recommendations, to help students show their academic improvement.
Charu Gupta likened the rollout of the new policy to how the first pancake never turns out quite right. She said students face deadlines every week but they have to teach themselves the material. She said even hardworking students are worried about not passing. She said the board needs to study its options and take a vote so each board member is accountable for their decision.
Assistant Superintendent Sharon Ofek said that if a student is failing, the teacher and other school employees will provide the same assistance to that student as they would if the letter grade system were in effect.
Mudita Jain said the pass/fail policy is bad for kids who are trying to show an improvement in their track records. She said her daughter, who is now a senior, got Bs first semester her junior year and worked hard to show a big improvement during the spring semester. She said current juniors won't get that chance. Jain also said grades provide students with motivation to work.
Teachers who spoke last night said they supported the switch to pass/fail grades.
Paly teacher and parent David Cohen said there is no way to avoid any negative impact but the pass/fail policy is best for reducing students' stress.
Teri Baldwin, president of the teachers union, said letter graders would increase stress and inequality among students.
Board members stood by Austin's the decision.
Board member Melissa Baten Caswell said children from poorer families are not the only kids struggling now. She said children of essential workers like doctors are worried about their families and have less oversight. She said other kids are having internet issues because with several members of the home online at the same time, the connections slow down. She said the district isn't trying to fail lots of kids, rather they went to pass/fail to ease stress and support students.
Editor's note: The comments from Karen Hickey have been revised to better reflect her comments to the board.