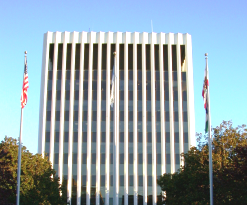 BY SARA TABIN
Daily Post Staff Writer
Palo Alto Mayor Adrian Fine said last night that the economic downturn will force the city will have to make "massive changes," but City Council's budget discussion focused on cutting services not laying off employees.
City Manager Ed Shikada said the city might lose $20 million before this year's fiscal year ends on June 30. He said the city doesn't know how much revenue it will lose next year but the cuts will likely have to be severe.
He said the city should plan for two years of financial constraints.
Shikada advocated for wide-ranging cuts to "share the pain" without making any permanent changes like selling real estate.
He said the council will have to consider options that are "not attractive." Shikada said there might be a temptation to assure residents that certain beloved services or projects won't be impacted, but everything should be on the table as an option for cutting.
Possible cuts include everything from libraries and parking enforcement to tree trimming and not renewing the city's lease of 27 acres of the Cubberley Community Center from the Palo Alto school district.
Manager, councilman disagree over staffing level
Shikada said the city's current staffing levels are what he considers to be low — 1,034 full-time employees compared to the 1,058 employees the city had in 2018. He said the city has already been making efficiencies and doesn't have a lot of excess staff.
Councilman Greg Tanaka said he thinks the city is "top-heavy" and should start with cutting management to prevent loss of services.
Tanaka's comment came shortly after Shikada said a suggestion from Tanaka that the city's numbers weren't properly updated was "inflammatory."
Councilwoman Alison Cormack said she thinks the city should be as conservative as possible. She said she would rather add services back in if the financial situation improves than have to keep cutting throughout the year.
"It will break my heart to not reopen all five libraries, but everyone's hearts will be broken," she said.
Cormack said she thinks the city can't lose sight of its long-term problems like climate change and rail crossings. She said that stopping progress on paying down pensions would be like deciding to stop bailing a boat when you see a big storm on the horizon.
Councilwoman Liz Kniss said she wants the city to expedite ways for the public to weigh in on the budget.
Fine said at the start of the meeting that the city is hoping to work with the unions to adjust to figure out what sacrifices need to be made.
Union members are getting raises
As the Post reported April 8, members of a number of city unions are scheduled to get raises on July 1 as part of contracts negotiated long before the coronavirus hit. SEIU will get a 2% bump that will cost the city $1.2 million. The police union will get a 3% raise at a cost of $2.2 million. And firefighters will get a 3% hike at a cost of $1.4 million.
Council also discussed putting money toward helping city businesses.
Businesses have been struggling under the state stay at home order. All businesses have been forced to close unless they're considered "essential" under Gov. Gavin Newsom's stay-at-home order.
That's resulted in layoff and, in some cases, decisions by business owners to shut down permanently.
The council said they are interested in putting $500,000 toward grants for businesses with less than 50 employees.
But council hasn't decided how it will pick the winners. Cormack suggested a lottery.
Tanaka proposed looking at how much different businesses contribute in taxes. He said he wants to get the program going quickly because businesses are struggling to survive.
Councilman Tom DuBois said he wants a slower approach. He said other cities with business bailouts like Mountain View moved to fast and didn't use their money as well as they could have.
John Shenk, president of Thoits Bros., a landlord to 17 commercial properties downtown, said that if the city wants to help businesses, it should speed up the process of getting permits for such things as signs.