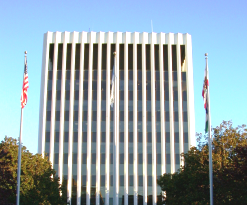 BY JEN NOWELL
Daily Post Correspondent
As Palo Alto continues to grapple with the effects of COVID-19, City Council will begin discussions tonight (April 20) over the budget for the next fiscal year, which could include deep cuts to city services.
In a letter to council, City Manager Ed Shikada laid out potential changes city officials will need to consider in the coming months to confront the "severe" impacts the global health crisis has had on the city and its budget. Cuts could include a number of things from reduced library hours to the elimination of the police department's traffic enforcement unit, he wrote.
"Depending on the length and depth of this current public health emergency, the severity of the financial ramifications remains unknown," Shikada said.
Based on calculations, as of now, city officials estimate that major general fund taxes will decline at a minimum of $20 million in the coming fiscal year, according to Shikada. Sales tax and hotel taxes alone make up nearly 30% of the general fund revenues, he said.
Prior to the health crisis, the city anticipated general fund revenues of $241.5 million for the fiscal year beginning July 1 — an increase of $9.4 million over the current fiscal year — but this is now up in the air.
Downtown Palo Alto has become somewhat of a ghost town, since Santa Clara County ordered residents to shelter-in-place as of March 16.
City revenue sources hit hard
Due to constraints on social activities, the city has seen "severe" impacts on its income from its hotel tax, sales tax, and revenues from licenses, permits and other services, Shikada said.
"The impacts have been stark and immediate," he said.
The city will have to adjust its projections as the proposed budget does not reflect any COVID-19 related impacts, Shikada said.
The current proposed budget for the coming fiscal year, reduces the city's workforce by one full-time position to 1,034 full-time employees, Shikada said. But he points out that significant adjustments will need to be made in light of the uncertainty the city faces.
At this time, the majority of city employees are working from home.
In laying out possible options to balance the coming fiscal year's budget, Shikada proposes continuing the city's hiring freeze, freezing all nonessential travel, eliminating current vacancies, and cutting employee hours through reduced walk-in office hours for services.
Potential places to cut
At tonight's council meeting, Shikada is also asking council to consider suspending or eliminating specialized police units such as the traffic enforcement unit and investigation unit to maintain minimal police patrol services, and shift the priority of police officers to focus on urgent calls and reduce response to non-urgent calls.
Within the police department, Shikada is also urging city officials to look at reducing officer training, promotional testing and uniform purchases as ways to cut costs.
Other cuts could include eliminating crossing guards and school resource officers, and reducing services at one or more of five fire stations, Shikada said.
At libraries, the city could consider reducing library hours or not opening select branches, he said.
And places like the Junior Museum and Zoo, the Palo Alto Children's Theater and the Palo Alto Art Center may have their hours reduced, Shikada proposed.
Reducing code enforcement officers possible
As for the city's planning department, Shikada wants city officials to consider scaling back certain application process requirements and reducing the number of applications requiring review by the city's Architectural Review Board. Other considerations might be reducing the number of code enforcement employees, and eliminating or altering Palo Alto's Crosstown and Embarcadero shuttle programs, he said.
Council meets at 6 p.m. by teleconference. The meeting can be viewed at midpenmedia.org or by watching the meeting via Zoom.