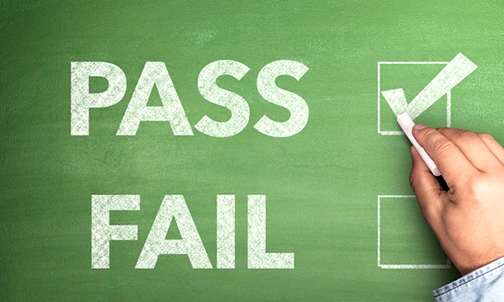 BY SARA TABIN
Daily Post Staff Writer
The Palo Alto Unified School District's switch to pass/fail grades while students are forced to learn from home during the pandemic is getting an "F" from some parents.
More than 300 parents have signed a petition against pass/fail grades.
Steve Toteda, who started the petition, said the switch from letter grades to pass/fail was premature. He said parents and students plan to raise their objections at the school board's meeting next Tuesday (April 21).
School officials say the pass/fail system will level the playing field for students who don't have access to high-speed WiFi or tutoring now that schools are closed. Many universities including UC-Berkeley have switched to pass/fail grading for this semester.
College acceptance concerns
Palo Alto students who spoke with the Post said that dropping letter grades will prevent them from showing colleges that they can improve their academic standing from previous semesters.
Max Goetz, a senior at Gunn High School, said the pass/fail system is fine for him because he has already been accepted to college.
But he said the system could hurt juniors who had mediocre grades in past semesters and needed a chance to show an upwards trajectory.
"For those people who wanted to show an upward trend in grades, I think it's a really unfortunate situation," he said.
AP grade-point advantage taken away
Toteda's petition says the new system will hurt the overall GPAs of students because they will no longer get the GPA bonuses that come with taking Advanced Placement courses. The petition says the district didn't get enough input from parents and students.
"My junior worked hard this semester to pull up her GPA with 'rigorous' courses — everything you tell her to do," commented Karen Hickey. "And now it doesn't count."
Joo Chia said juniors are "heavily handicapped" by the new system.
The petition suggests that the district consider having a system where students get the chance to improve the grades they had before the stay-at-home order was instituted, but no one gets a worse grade than they had at that time.
Superintendent Don Austin told the Post he was aware of the complaints but has received generally positive responses about the new system. Austin sent the Post an April 6 email from Santa Clara County superintendent Mary Dewan, which recommends pass/fail grading to ensure all students have the same opportunity for success.
"I understand people want school to look and feel like the things they know about schools," said Austin. "When it's different, and in this case, a lot of things are different, (so) it's uncomfortable."