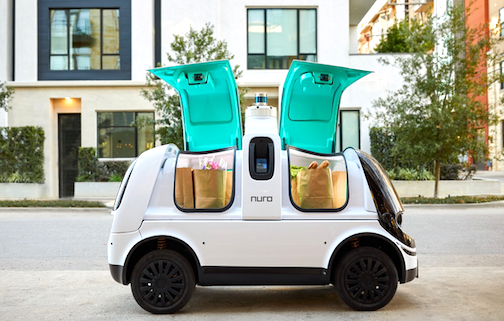 BY EMILY MIBACH
Daily Post Staff Writer
As humans are trying to have less contact with each other to lessen the spread of COVID-19, a Mountain View startup will begin testing its driverless delivery system in the area, the DMV announced yesterday.
Nuro will be testing two of its small R2 delivery vehicles, which are roughly the size of a golf cart, in Atherton, East Palo Alto, Los Altos, Los Altos Hills, Menlo Park, Mountain View, Palo Alto, Sunnyvale and Woodside.
Nuro plans to team up with local brands and retailers to deliver items to customers in Mountain View and later throughout the Mid-Peninsula, according to a blog post from Chief Legal and Policy Director David Estrada.
You likely won't be seeing a Nuro vehicle zooming down El Camino Real or Highway 101 because it can only go 25 mph and is approved to operate during fair weather on streets with a speed limit of 35 mph or lower.
Neither Nuro nor the DMV would say which roads specifically residents would be able to see a Nuro delivery car zip around.
Nuro is the second company in California to get state permission to test driverless cars on public roads, the first being Google subsidiary Waymo in October 2018. Nuro will not be carrying passengers, only goods.
The Mid-Peninsula is no stranger to autonomous vehicles. Lyft has its autonomous vehicle division at the Stanford Research Park and is testing its vehicles at the former Catalytica chemical manufacturing plant on Bay Road in East Palo Alto.
Both Palo Alto and Redwood City have allowed Starship to test its cooler-sized robots to deliver food and other goods in the two cities' downtown areas.
Nuro's plan is to test its vehicles on the Mid-Peninsula before expanding throughout the Bay Area, and ultimately the state. Nuro is already delivering food and groceries to residents of Scottsdale, Ariz. and Houston, Texas.