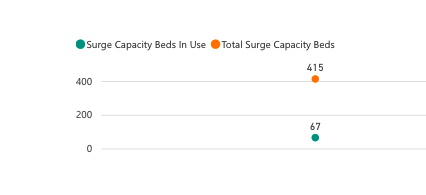 BY EMILY MIBACH
Daily Post Staff Writer
San Mateo County has updated its COVID-19 tracker to include information about how many virus patients are hospitalized.
Of the 589 reported COVID-19 patients in the county, 66, or 11% are hospitalized.
There are 31 virus patients in the ICU, comprising 24% of the county's ICU beds. Another 56 are being used by other patients, and there are 40 open, according to the county's site.
The site also includes how many ventilators are being used by county hospital patients and how many of the county's "surge" beds are in use. There are 111 ventilators not being used, and 63 are in use, however, there is no information as to how many of those using the ventilators are COVID-19 patients.
The county on March 31 had unveiled its new site that provides data about COVID-19 in the county, such as the age ranges of those who have tested positive for the virus, and their genders.
Yesterday, the county reported a spike in COVID-19 related deaths, from 13 to 21. Officials said not all of those new deaths happened in the last 24 hours. Because of reporting issues, some had happened previously.