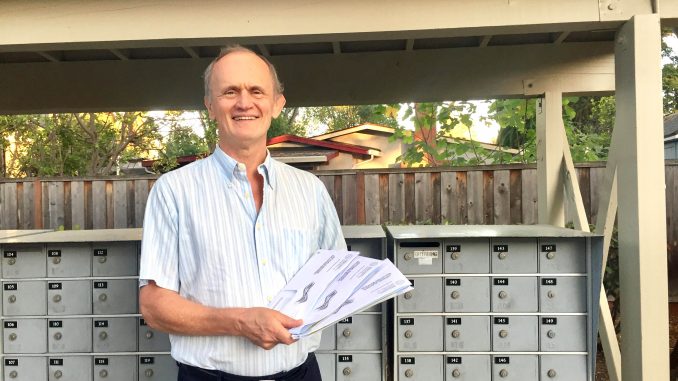 BY ALLISON LEVITSKY
Daily Post Staff Writer
Mountain View tenants' rights advocate Steve Chandler got his ballot in the mail on Friday (Oct. 12) — then, on Monday, he got two more.
"Maybe DMV is suggesting that I vote three times," said Chandler, 69.
Chandler thinks he may have gotten extra ballots because he recently renewed his driver's license online and said "yes" to making sure he was registered to vote at his current address.
The ballot he received on Friday is addressed to his first and last name, which he said he uses to register to vote. The second and third ballots included his middle name — as does his driver's license.
Chandler contacted the Santa Clara County Registrar of Voters yesterday (Oct. 16) about the duplicates. An employee at the registrar's office responded that Chandler was only listed once.
"I am not sure why you received three, I will look into this further," Tiffani Lopez said to Chandler in an email. "Please mail in one ballot as usual in the meantime."
Registrar of Voters spokesman Eric Kurhi said yesterday afternoon that he hadn't heard of other cases of multiple ballots going to a single voter in the county, but that he would check to see if the office had received other reports.
Only one will count
Kurhi said that if Chandler's only in the system once, even if he cast multiple ballots, only one vote would count.
"That's why you can't be a vote-by-mail guy and then cast a provisional one at the poll," Kurhi said.
Chandler said the fact that he was getting multiple ballots made him worry about other glitches in the system.
"If you asked them how many ballots they sent out, they'd say 'only one,'" Chandler said. "They're not on top of it completely at this point."
Some Sacramento County voters have been receiving multiple ballots after signing up for a Real ID at the DMV, the Sacramento Bee reported yesterday.
Election officials in that county said that it was "common to receive more than one ballot" and that some voters had received three.
"It is the ballot that returns that matters. First one in wins," Sacramento County election officials said in a statement.