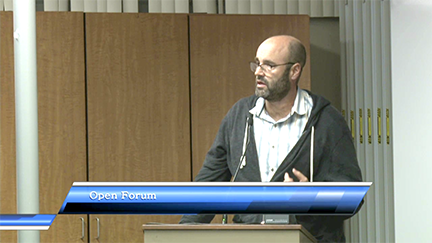 BY SARA TABIN
Daily Post Staff Writer
A dozen Paly parents and students told the school board last night (Nov. 5) that they are horrified and angry that the district fired girl's water polo coach Doug Stotland and granted special privileges to one student on the team.
The parents asked for an apology to the team and an independent, transparent investigation into the firing.
Stotland was fired last month under murky circumstances. He was told his service was no longer needed even though he was let go in the middle of the sport's season. His lawyer, Todd Emanuel, told the Post that Stotland was let go because he suspended the daughter of an influential family that has donated to the district after she acted out at a game.
The player habitually bullied several other players on the team and sometimes refused to participate in plays during games, said Emanuel. School administration had previously told Stotland he was not allowed to discipline the player, said Emanuel.
Parents of girls on the team who went to the microphone last night were emotional as they accused the district of bowing to pressure from a few parents and ignoring the needs of the rest of the team. Parents said that Stotland built the program and worked tirelessly to help players succeed.
"This makes me feel like if you want to get something from this district you should just file a lawsuit," said parent Colleen Backstrand.
Tim Edwards, whose daughter is a junior on the varsity team, said the district created a "needlessly stressful" environment by creating a special set of rules for one student.
He demanded to know what the district's policies are for creating specialized athletic plans for just one student.
Board tells fired coach not to mention student
Stotland also spoke out. He said he thinks the district bowed to the threats of a lawsuit when they fired him.
When Stotland began to talk about suspending a student, Trustee Ken Dauber interrupted to say he was not comfortable with a "former employee" talking about a current student. Dauber was booed by meeting attendees, but board President Jennifer DiBrienza asked Stotland not to refer to a specific student.
Parent Melissa Henderson said she understands the needs for Individual Educational Plans, which are sometimes granted to students who have disabilities, because two of her own children have them. But Henderson said that whatever agreement was made for the water polo player resulted in her getting an alternate set of rules and a special status that led to conflict and resentment on the team.
Alexandra Lee, a senior captain, said she has loved playing for Stotland for the past three years. She said that his firing hurt her education as well as her playing experience because Stotland was no longer allowed to serve as a mentor for her on a school project.
DiBrienza said the board couldn't comment on the situation since it wasn't on the agenda for the meeting.