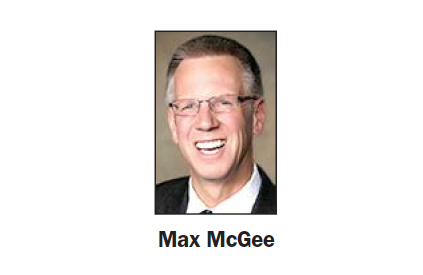 BY ALLISON LEVITSKY
Daily Post Staff Writer
Palo Alto Unified School District parents gave the board an earful last night (Sept. 12) after the district lost at least $4.4 million to a missed deadline on a union contract, triggering a 3% raise for teachers and other employees.
Superintendent Max McGee apologized for the mistake, which they said caused the district to lose millions that it would have preferred to spend on more pressing needs.
"I believe in being very specific about apologies," McGee said. "I apologize for not having more oversight into the negotiations process. When you delegate something, it's important to follow through on the delegation."
Gunn High School parent Amanda Chi criticized McGee's handling as setting a bad example for students by not owning up to his mistake.
"I think it's important to maintain a community's trust," Chi said. "Each of you was elected by us to help us to protect our children and to be good stewards of our tax money."
Each board member also offered an apology. "It's frustrating and disappointing to have an extra $4.4 million in unanticipated revenues and not to be able to apply them to the pressing problems of the district," board member Ken Dauber said. "I don't think we can assure the school community that those budget cuts will not affect students."
"There's just no excuse, there's no explanation, there's no reason that it happened. It shouldn't have happened," board member Todd Collins said. "I have to do better as a board member to earn and maintain your trust and your continued support."
A 'misunderstanding and misinterpretation'
The error came to light Aug. 25 when McGee said in his Friday newsletter that teachers would be getting a 3% raise in the coming school year. That was surprising because the board had previously said it wanted to cancel the raise due to a budget shortfall.
"While we would have preferred to have more flexibility if we reopened the 2017-18 contract, due to some misunderstanding and misinterpretation of contract language, we missed this opportunity," McGee said in his newsletter.
That statement was seen as less than forthcoming by some of those who went to the microphone at last night's meeting.
Greer Road resident Robert Smith criticized the "dishonesty" of the response to the mishap and said that poorly followed business processes were "something that the district has had an overall problem with for some years."
"We see misrepresentations of what happened, hiding errors and avoiding personal responsibility," Smith said.
Comparisons to the sex harassment cases
Some parents compared the error to the board's legal expenditures as it wrangles with multiple Office for Civil Rights investigations over its mishandling of sexual harassment complaints.
"You have not been doing your fiduciary duty. I have been pointing out the literally millions of dollars that the district is spending on litigation at outside law firms," said Rebecca Eisenberg, a Silicon Valley lawyer and district parent.
"It is impossible to say that this district is being adequately run. We have no stability in this climate where students cannot even go to school without fear of sexual assault," Eisenberg said.
"We don't want to see even one of our taxpayer dollars wasted, rather than $6 million of them, whether due to mismanagement at the highest levels of PAUSD in union negotiations, or whether it's due to spending approximately $1 million over the last seven years on legal and compliance costs for violations in civil rights," Palo Alto High School parent Kathy Jordan said.
In response to calls for McGee's resignation before he retires at the end of the school year, Duveneck Elementary School principal Chris Grierson said in a statement that 40 of the 41 district administrators who responded to a survey said they supported McGee finishing out the year. The administrators are part of the Palo Alto Management Association, a union.
The responses, Grierson said, "reflect a desire for Max to continue to preserve continuity, consistency, avoid disruption and reduce distraction. Other reasons include that his staying would minimize extra costs in compensation for an interim superintendent, and most importantly, maintain stability in our organization."