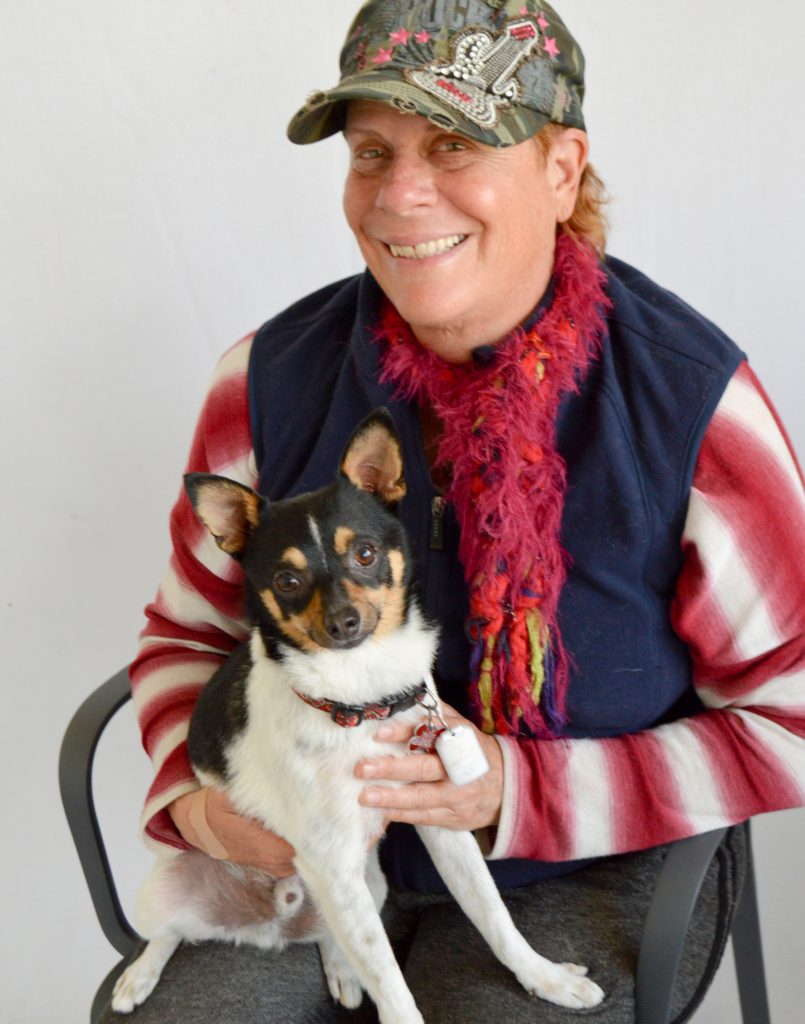 Five years ago, Menlo Park resident Rhea Sampson was out walking her golden retriever near Flood Park when they stumbled across a tiny dog in terrible shape. The little chihuahua-terrier mix had severe skin disease, rotten teeth, infections and wasn't neutered. And he weighed half what he should have.
Sampson knew she had to get the dog to a vet, but with her partner recently unemployed, she also knew she needed help. She called Palo Alto Humane Society, and with their help was able to get the dog the emergency care he needed, with about half knocked off the sudden $1,100 bill. Today, the dog, Travis, is a healthy and happy member of their family and Sampson a devoted volunteer for the organization.
And this Sunday, the Palo Alto Humane Society will host their annual Daisy's Day gala to raise funds for providing emergency veterinary care for pets whose owners cannot afford it.
The Daisy's Day celebration will be held Sunday, Oct. 13, from 1 to 4 p.m. at the Quadrus Conference Center at 2400 Sand Hill Road in Menlo Park. The fundraiser will feature auctions, wine and a delicious vegan lunch, and will be emceed by Bob Sarlatte, the longtime on-field stadium announcer for the 49ers. Auction items include artwork, jewelry, certificates for fine dining and hotel stays. Tickets are $75 and can be purchased at paloaltohumane.org/daisys-day-2019.
Daisy's Day is named after a shelter dog who was adopted but needed medical attention. Daisy's companion, Sue Klapholz, was able to provide for her beloved dog but realized that many other pet owners cannot shoulder the financial burden of unexpected veterinary care.
"After Daisy passed away, I wanted to do something to help other pets obtain vital veterinary care that their families otherwise could not afford," said Klapholz. "Several years ago, I made a donation to PAHS in honor of Daisy to start the Daisy Fund."
"Every donation to the Daisy Fund, every ticket purchased for Daisy's Day, is life-saving," said PAHS executive director Carole Hyde.
Common veterinary services covered through Daisy's Fund include: ER visits (which can cost at least $100), ultrasounds or X-rays ($70–$200), sedation ($135), wound care ($350-$500), surgery ($1,000+) and end-of-life care ($250). Pet owners like Sampson who need help can call or email the Palo Alto Humane Society to request aid. The PAHS veterinary assistance program helps qualifying low-income residents of the mid-Peninsula.
"I was so grateful for their help," said Sampson, who said that in addition to the financial assist, the people at the organization provided advice and emotional support when it was most needed. These days she volunteers with the organization's Critter Club program, which teaches elementary schoolers how to be kind to animals and understand their needs.
For more information about Daisy's Day, assistance with emergency pet care or volunteering opportunities with Palo Alto Humane Society, email them at pahs@paloaltohumane.org or call (650) 424-1901.