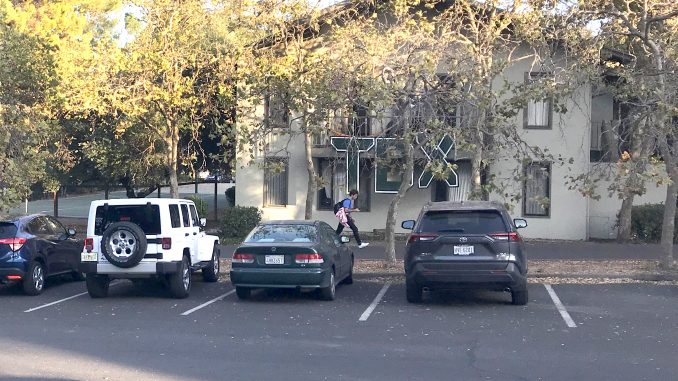 BY SARA TABIN
Daily Post Staff Writer
A Stanford deputy was seriously injured by an intoxicated man who was apparently headed to a fraternity party.
The officer was injured on Friday (Sept. 27) at 10:30 p.m. near 675 Lomita Drive, according to Stanford police spokesman Bill Larson.
The incident began when Stanford deputies attempted to detain the man. He tried to flee, and one of the deputies was hurt trying to restrain him. The officer's leg was injured, according to police radio transmissions.
Larson didn't release the suspect's name Monday or say whether he was a Stanford student.
The Theta Delta Chi fraternity house is located at 675 Lomita Drive, but that fraternity didn't host a party on Friday and its members say no one in Theta Delta Chi was involved.
Francisco Nodarse, a member of Theta Delta Chi, said he was in his room on Friday night when he heard a commotion outside. Nodarse looked out the window and saw police officers shouting and running across the fraternity basketball court toward a parking lot next to the house. There were already three police cars in the parking lot, he said.
A police officer was lying on the ground by a parking lot curb, according to Nodarse. He said the suspect was standing over the officer before being arrested by the police.
Kappa Sigma event
Nodarse said that there had been an event Friday night at Kappa Sigma, another fraternity which is up the street from Theta Delta Chi. Large numbers of freshmen were walking through the parking lot to get from their dorms to the party, he said. Nodarse said his understanding was that one of the freshmen had gotten into the altercation with the police.
Luciano Gonzalez, another member of Theta Delta Chi, confirmed that Theta Delta Chi was not hosting a party on Friday night. He said he wasn't sure if the suspect was a Stanford student, but said he was sure they weren't a member of Theta Delta Chi.
Members of Kappa Sigma, who were contacted yesterday afternoon outside their house, declined to comment.
Both the injured deputy and suspect were treated at the scene and then taken to the Stanford Hospital for further evaluation and treatment, according to Larson.
The suspect was then taken to the main jail in San Jose and booked on felony charges of resisting arrest, which resulted in serious injury, and other misdemeanor charges including being under the influence of alcohol or drugs.