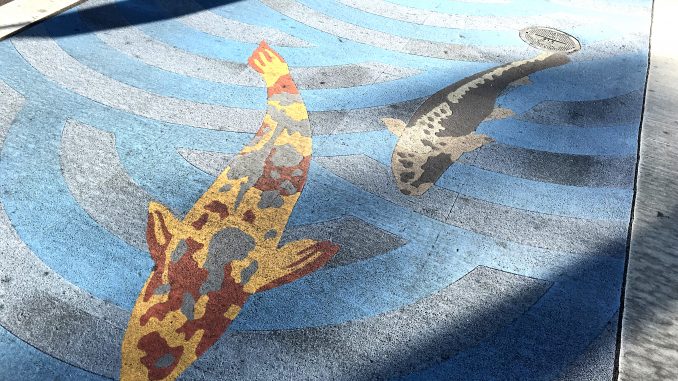 BY JEN NOWELL
Daily Post Correspondent
A Palo Alto intersection featuring "attractive" fish painted in the crosswalks may be stopping children in their tracks in the middle of the road, according to a city councilwoman.
The fish are part of a public art piece, "Go With the Flow," that was installed at the Louis Road and Fielding Drive intersection in July 2018 near Ohlone Elementary School.
At Monday's joint council meeting with the city's Public Art Commission, Councilwoman Alison Cormack said she gets questions in regards to putting fish in the middle of the street.
"I wonder if you could just share with me the thinking about making it blue which is a water color and not a normal color for something on the road," Cormack asked the art commissioners. "And the thought process of putting really attractive fish that small children may want to look at in the middle of a road?"
Sidewalks don't have to be straight
Ben Miyaji, the commission's chair, said it's one of the things the commission will have to look at with projects going forward.
"On crosswalks, I understand your question about that… I feel crosswalks are like benches and sidewalks in that sidewalks don't have to be straight and benches don't have to look like benches," Miyaji said. "So the same thing with crosswalks, you can really make crosswalks stand out and make it a piece of public art, but the danger as you're saying, especially around schools, is to have children just stop in the middle of the crosswalk and just take a look at it."
The piece of art by graphic artist Damon Belanger stretches across all four crossings at the intersection. It features a bright blue background with orange and yellow fish.
Cormack said the community would have received the same benefit of the artwork if it had been on the sidewalk.
An update on public art
The purpose of Monday's meeting was to give an update on what's gone on with public art around Palo Alto in the past year. Many on council agreed it was nice to see more art everywhere.
"Thank you for making our city more interesting and beautiful," Mayor Eric Filseth said.
But Councilman Tom Dubois brought up the Midtown Shopping Center as a blank space for art, and he said he would like to see more art brought to the area.
Visa building's art
In regards to new artwork, Dubois said he has heard concerns from residents about artwork that lights up, brightening up Visa's office building at 385 Sherman Ave. which has 63 14-foot-by-three-foot light panels mounted along two sides of the building.
"I rather like the Visa building, but what it says is that we all… we see this in very different ways," Councilwoman Liz Kniss said, adding that perhaps the Visa building is the poster child.