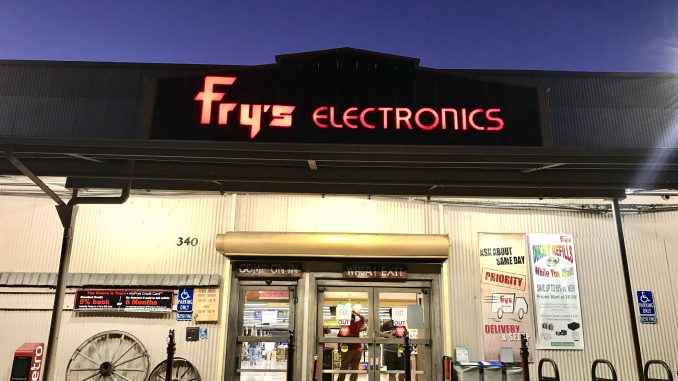 By the Daily Post staff
Fry's Electronics, a mecca for tech hobbyists and one of Palo Alto's largest retailers, will be closing its doors in January.
"We're sorry to say that the Fry's lease on that property will expire on Jan. 31, 2020. That's the date we must vacate the premises, and we will close for business on an, as of yet, undetermined date likely earlier in the month," Fry's spokesman Manuel Valerio told the Post in an email yesterday (Aug. 28).
"We would not have closed our Palo Alto (store) but for the fact that our lease expired. It is unlikely we will relocate in Palo Alto," Valerio said.
Five other stores will remain open
He pointed out that customers can still shop at the company's stores in Sunnyvale, Fremont, San Jose, Campbell or Concord, or by visiting the website Frys.com.
"Bummer, that totally sucks," said John Debono of San Mateo, who was shopping at Fry's yesterday. "(It's the) closest one this north on the Peninsula. Now we have to go all the way to Sunnyvale."
Other patrons at the store also said the closure would be inconvenient. Jack Pines of Palo Alto said he goes to Fry's when he needs to buy something quickly.
"It means you just have to get everything from Amazon," he said.
But others were less surprised that the store is closing. Ryan Chur of Redwood City said he had only been to Fry's a few times but that it always seemed pretty quiet.
What will become of the space at 340 Portage Ave. after they leave isn't clear.
Owner plans to keep building
City Planning Director Jonathan Lait told City Council last week that the owners of the building, the Sobrato Organization, have no plans to redevelop the building, which was originally a cannery and may carry historical significance.
"The anticipated expiration of the Fry's lease at the end of the year may also influence the owner's interests to re-establish a new retail use in compliance with current zoning regulations and further forestall any redevelopment of the site in the near term," City Manager Ed Shikada said in a report to City Council on Aug. 19.
Since the mid-1990s, the city has been planning for the day when Fry's would leave and the 60-acre North Ventura Area could be redeveloped with housing on the store's site.
The council has created a 14-member citizens committee to plot the future of the North Ventura Area.