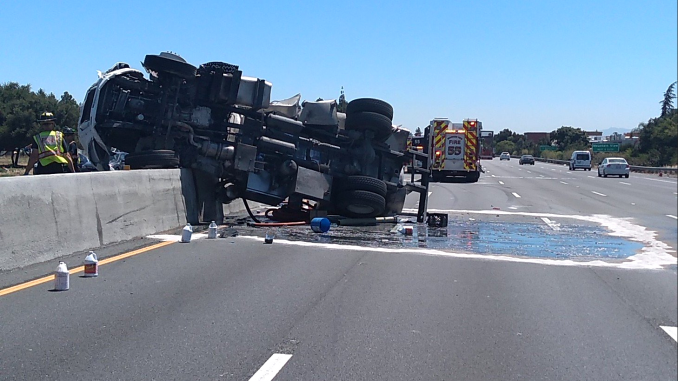 By the Daily Post staff
About 1,000 gallons of human waste spilled onto Highway 101 in Palo Alto yesterday after a NorCal Sanitary truck flipped, hit another vehicle and landed on the center divide wall.
The accident happened just south of the San Antonio Road off-ramp at 12:56 p.m.
The truck carrying toilet water was headed north on 101 when it was cut off by a black sedan, the CHP said. That caused the truck driver to veer to the right.
The truck hit the impact attenuators before it went out of control and traveled across all lanes toward the center divide, according to the CHP.
It hit a white sedan and then slammed into the center divide wall, flipped and landed mostly in the southbound lanes.
"It's a miracle no one on the (southbound) side was hit," the CHP said on Twitter. No injuries were reported, even by the truck driver.
Traffic in both directions was stopped.
NorCal Sanitary rents portable toilets and uses trucks, like the one that crashed yesterday, to remove the waste and take it to a disposal station.