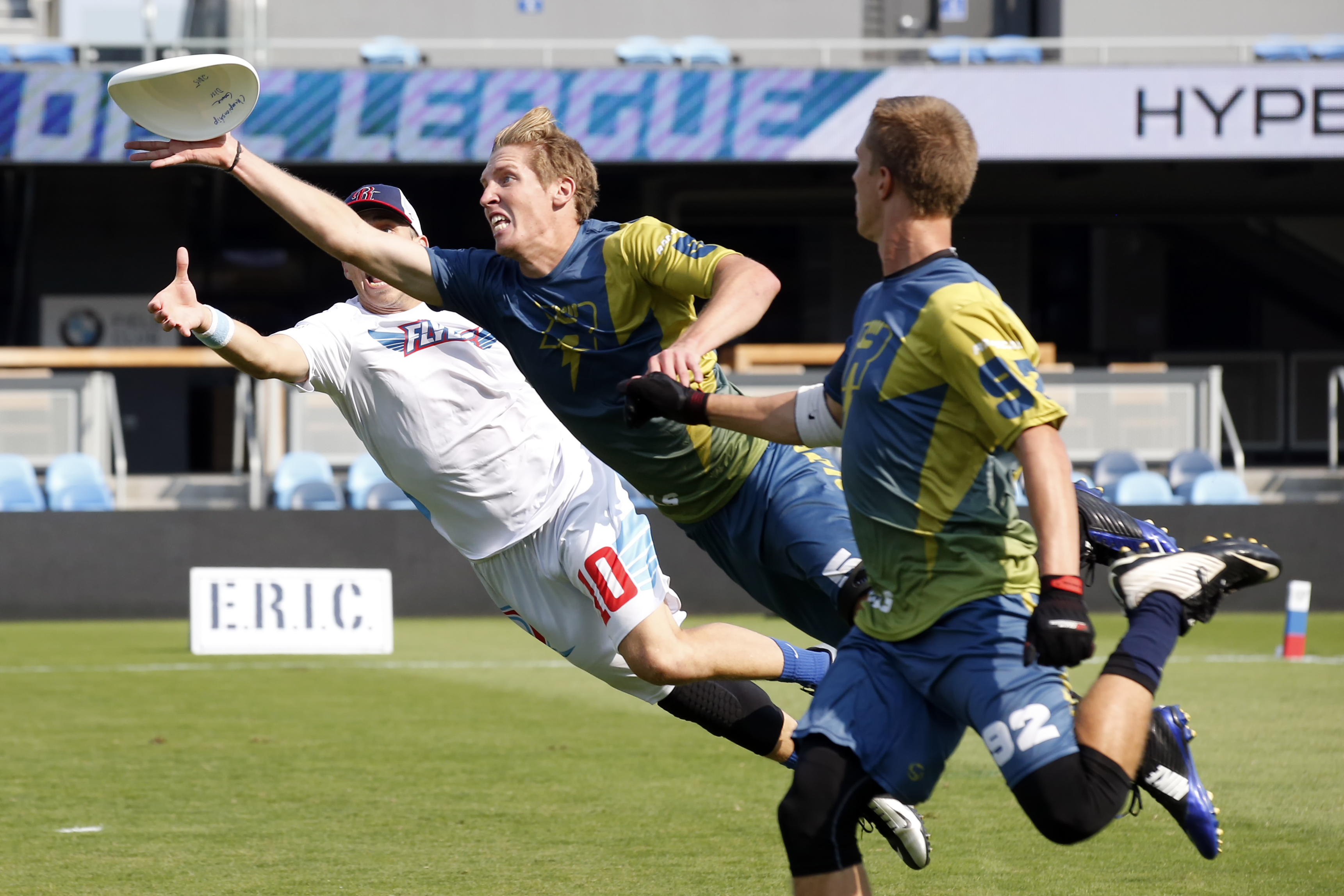 The American Ultimate Disc League's Championship Weekend is coming to the Peninsula in just a few weeks, and it's the perfect occasion to treat the whole family to frisbee fun for all ages.
The league's two semifinal games will be held at Foothill College Stadium in Los Altos Hills on Saturday, Aug. 10, at 4 p.m. and 7 p.m. The undefeated New York Empire will face off against first-time finalists the San Diego Growlers. The Dallas Roughnecks return to the Championship Weekend to take on the Indianapolis Alleycats, who appear in the finals for the first time since 2012.
That Saturday will also be Family Day, which will feature an on-field kid's zone with a giant inflatable obstacle course, balloon art, spray tattoos and fun frisbee-throwing games. There will also be food trucks and a VIP section with catered food and drink. The licensed event will be responsibly pouring ice-cold Deschutes Brewery beverages.
Also Saturday, kids will have the opportunity to participate in a youth clinic from 1 to 3 p.m. run by Matt Smith and other league All-Stars before gates open. Sign-up is required at https://theaudl.com/league/champweekend.
Saturday's winners will face off in the 2019 Championship game the next day, Sunday, Aug. 11, at noon.
Ultimate frisbee is a fast-paced, highly athletic sport that is played by advancing the disc down a football-sized field to score by passing into the end zone. It's one of America's fastest-growing sports, and if you haven't seen the athleticism and unmatched spirit of a game, there's no time like the present to check it out, says league Chairman Rob Lloyd.
"I've taken families and their kids to many matches and nobody says anything but 'wow' when they see the games because they're so exciting to watch," said Lloyd. "And this sport has an ethos of integrity that really sets it apart."
It's also a truly affordable sport for fans; a four-pack of tickets that get you into both games on Saturday is just $49.95, and there are all kinds of early bird and VIP deals for both single-day tickets and weekend passes.
By attending the event you will also help the league meet its "50k Tree Planting Challenge," which is part of the league's partnership with a nonprofit to help reforestation efforts in Africa. For every fan who attends the event, 20 trees will be planted. Help them meet their goal of 50,000 trees planted!
For more information about the American Ultimate Disc League Championship weekend and to buy tickets, go to https://theaudl.com/league/champweekend.