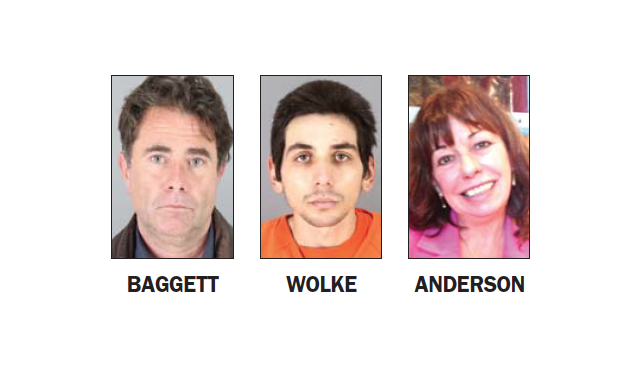 BY EMILY MIBACH
Daily Post Staff Writer
As investigators struggle to determine the motive for the murder of Kathy Anderson in Menlo Park, the man who claims to have found her body has been arrested once again in connection with trespassing on her property on Valparaiso Avenue.
On July 30 at 9:10 a.m., a Menlo Park police officer saw Daniel Baggett, 47, on the 900 El Camino Real and knew there was a warrant out for his arrest, said police spokeswoman Nicole Acker.
Baggett was arrested on a warrant for not appearing in court, said District Attorney Steve Wagstaffe. He was also in possession of drug paraphernalia, and was charged for that, Wagstaffe said.
A warrant for his arrest was issued after he failed to appear in court for a conference related to his Jan. 28 trespassing arrest at Anderson's home at 925 Valparaiso Ave. He was also charged with stealing a potted plant.
He was also charged for trespassing at her home on Dec. 13, the day after Anderson was found dead.
Baggett was a former tenant of Anderson's in that house. Baggett told the Post on Dec. 12 that he decided to check on her on his way home from work when he discovered Francis Wolke, 26, of Cincinnati, Ohio, inside the home with blood on his clothes and Anderson dead of stab wounds.
Baggett called 911 and held Wolke at knifepoint until police arrived. Police arrested Wolke on suspicion of first-degree murder.
Baggett told the 911 dispatcher over the phone that Wolke said he had "killed" a woman.
Anderson and Baggett had a tumultuous relationship. Anderson had evicted Baggett from her home in August. But he remained interested in her home.
During his most recent arrest, Baggett listed Anderson's Valparaiso address as his own, said Wagstaffe.
Baggett is expected to appear in court on the trespassing charges on Sept. 5. He is out of jail on a $10,000 bail bond.
Wolke, the man suspected of murdering Anderson, is in jail on $10 million bail and is expected to appear in court on Oct. 17.