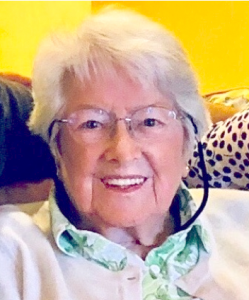 Margaret Meagher passed away peacefully with her family by her side on July 27, 2019.
Marge was born and raised in Brooklyn, New York. She was the second daughter of William and Catherine Deery. Her parents emigrated from Ireland and Marge was very proud of her Irish heritage.
Marge was a resident of Palo Alto for 55 years. She volunteered for 40 years at the Allied Arts Guild in Menlo Park, where she met many of her closest friends. Marge was very passionate about supporting the work of the Lucile Packard Children's Hospital. She was a parishioner of the Church of the Nativity for many years and her Catholic faith was an important part of her life.
Marge loved spending time with her family and was a wonderful mother and Nana. She was an amazing cook. When you walked into her house you knew you would be loved and well taken care of.
Marge is survived by her children Monica Chapman (Joe), Tom Meagher (Pattye), Susan Boken (John), and Maureen Del Santo (John). She is predeceased by her beloved husband Tom and son Terry. Marge had eight grandchildren she adored: Bridget, Maddie, Brendan, Joe, Jack, Connell and Eryn. She is also survived by her brother Mike, sister-in-law Agnes, and numerous nieces and nephews.
The family would like to thank her wonderful caregivers Neti, Lucy, and Talia for all the love and care they provided Marge over the last few years.
A funeral mass will be celebrated Thursday, August 1st at 10 at the Church of the Nativity in Menlo Park. A private burial will follow.
In lieu of flowers, donations can be made in Marge's name to the Lucile Packard Children's Hospital in Stanford, CA and the Church of the Nativity in Menlo Park, CA.