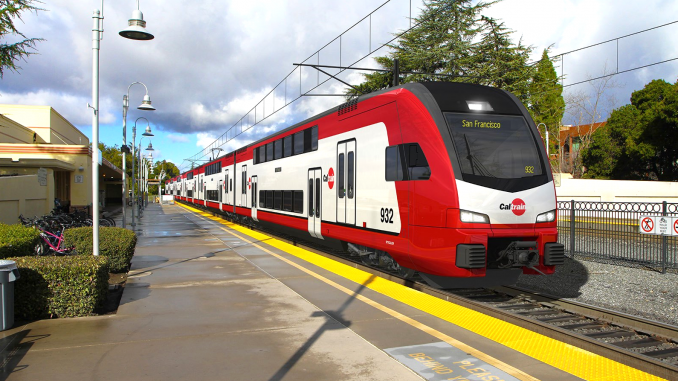 By the Daily Post staff
Caltrain has unveiled a draft of its long-range plan for improvements that anticipates a three-fold increase in ridership even though ridership has been falling for the past year.
Under the vision recommended by Caltrain Executive Director Jim Hartnett, peak hours would see eight trains per direction per hour, with all-day express service every 15 minutes and increased off-peak and weekend services, according to the agency.
The commuter railroad reports 63,597 boardings a day, a number expected to expand to early 180,000 if the proposed changes are implemented.
(Actually, Caltrain counts passengers twice each day — when they board in the morning and again in the afternoon. The actual number of people served by Caltrain daily is 31,798. The 62,597 reflects the double-counting method.)
Ridership fell 2.3% in the previous year, a trend the long-range plan assumes will be reversed. Ridership had been increasing for several years until it peaked in 2018.
The plan also assumes that Caltrain will complete the switch from diesel to electric locomotives by 2022. Electrification will cost $2.3 billion.
"Over the period of this vision, peak hours would see eight trains per direction per hour, with all day Baby Bullet express service every 15 minutes, and increased off-peak and weekend services. This increased frequency, paired with longer trains, would massively expand capacity to nearly 180,000 riders per day," Caltrain said in a statement.
"This vision would also ensure that Caltrain is ready to expand and integrate into a regional rail network over the next 20 years including the expected Downtown Extension to the Salesforce Transit Center in Downtown San Francisco, a potential renewed rail corridor across the Dumbarton Bridge and enhancements at Diridon Station in San Jose," the Caltrain statement said. "It prepares Caltrain for a future shared corridor with high-speed rail, and considers opportunities presented by a second Transbay crossing, expanded service to the Monterey Peninsula and investments along the Altamont Corridor Express and Capital Corridor services."
Caltrain receives 70% of its operating revenues from fares and its board has been discussing putting a one-eighth cent sales tax on the November 2020 ballot in the three counties it serves — San Francisco, San Mateo and Santa Clara. Palo Alto might also put a business tax to pay for grade separations (bridges to separate the tracks from streets) on the same ballot.
The Board of Directors will discuss the business plan and long-range vision at their Aug. 1 meeting before potentially adopting it as soon as this October and completing the business plan by early next year.