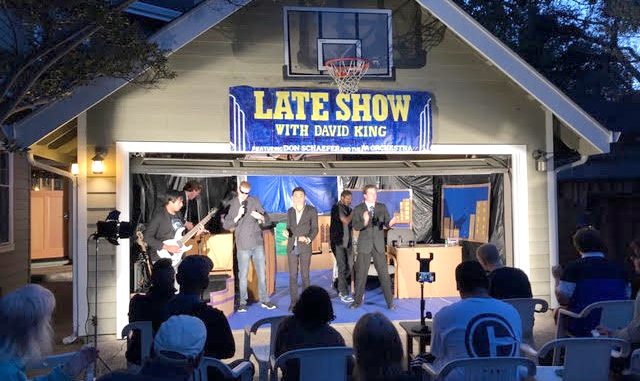 This story was printed June 14 in the Daily Post.
BY ALLISON LEVITSKY
Daily Post Staff Writer
Some Palo Alto garages seem to have a little magic in the air, creating a breeding ground of creativity — after all, Hewlett-Packard was founded in a single-car garage on Addison Avenue in the 1930s.
Since 2015, identical 21-year-old twins David and Robbie King have used their garage on La Selva Drive in Barron Park as a stage, entertaining neighbors with their quirky David Letterman-inspired live talk show titled "The Late Show With David King Featuring Don Schaefer and the PA Orchestra."
On June 14, these Palo Alto High School graduates did their 49th show, featuring David's Letterman-style opening monologue about finishing his third year of community college, a live performance of songs from the Toy Story movies and an interview with tonight's guest, the Kings' aunt, who is visiting from England.
"I do my best to make everybody have a good time no matter what," said David, who studies theater at Foothill College. "I've learned how to say things that could make people laugh."
The Kings said the show usually attracts about 25 attendees, who sit in chairs lined up on the driveway. The largest audience was 50 or 60, said their mother, Jere King.
The twins have long been Letterman fans — even acting out talk shows together in elementary school — and were inspired to launch the show in the garage after Letterman retired in 2015.
Mentos stunt
The first show on Aug. 25, 2015 was "a messy one," David said, featuring a Mountain Dew-and-Mentos experiment inspired by Letterman's antics from the 1980s. Since then, David says he's gained confidence and gotten less nervous in front of an audience.
Jere King said each show follows the same three-act format, with David's opening monologue, musical performances from Robbie's band and David's interview with a guest. Some shows have a theme, often centered around a holiday.
"It's become a really great activity for our neighborhood to get people together, to have the boys' friends, our neighbors, people we know — it has a real community feel to it, and the neighborhood really enjoys it," Jere said.
The band features Robbie, who sings, along with drummer Roger Poon, guitarist Michael Smith, tambourine player Jamal Gage and co-host and rapper Don Schaefer, who Robbie said takes on a role similar to Letterman's musical director Paul Shaffer.
Guests
Guests have been all over the map, including City Council members — Jere King declined to name names — former Palo Alto school board candidate Stacey Ashlund, techies, venture capitalists, a teen mental health counselor, a local sports medicine doctor and Grush toothbrush Chief Operating Officer Ethan Schur — who Jere said knocked on the Kings' door and asked to be on the show when he saw the "Late Show With David King" banner outside the house.
"Me and my brother have worked really hard to get the show out there," said Robbie, who studies music and art at Foothill. "We view it as business, man. We're trying very hard."
It's free to attend the show, which is also recorded by the twins' father and posted online. Jere books some of the guests and writes some of the interview questions. They've already scheduled their 50th show for July 12 at 7:45 p.m.
And, yes, the Kings have contacted Letterman over social media, but haven't heard back.
Editor's note: The date for the 50th show has been changed from the original version of this story.
Only a fraction of the local news stories covered by the Daily Post appear on this website. To get all the local news, including many stories you can't find online, pick up the Post every morning at 1,000 Mid-Peninsula locations.